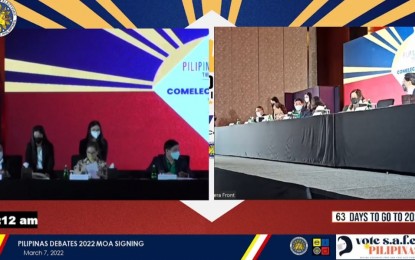 MANILA – The Commission on Elections (Comelec) will not allow national candidates to use their e-rally platforms if they will not attend the presidential and vice-presidential debates to be hosted by the poll body, an official said on Monday.
"We do have an e-rally that we do allow them to use the platform and one of the arguments is that if they skip the debates then they will not be able to air their e-rallies on our e-rally platform," Comelec spokesperson James Jimenez said in a press briefing after the signing of a memorandum of agreement (MOA) between the poll body and Vote Pilipinas at the Sofitel Hotel in Pasay City.
The MOA is in connection with the staging of Pilipinas Debates 2022.
Jimenez said this penalty will be in effect until the end of the campaign period.
Comelec acting chairperson Socorro Inting is hoping that all the nine presidential candidates and 10 vice-presidential aspirants are going to attend the debates.
The first presidential debate is set for March 19 while the vice-presidential debate is scheduled for March 20.
"I really hope all the candidates will participate in the debates sponsored by Comelec. One who refuses or skips the debate will not be allowed to join the e-rallies," Inting added.
At the start of the campaign period for national candidates last February 8, the Comelec has allowed them to use the e-rally platform where they were able to show their campaign sorties online.
Aside from not being able to use the e-rally platform, the podium of the candidates who will not join the debates will be left empty during the event.
Jimenez refused to further discuss the written commitment of candidates and what they have agreed upon during their meeting last week.
"We are still going to brief them on the fine points of the format that is actually all of the candidates are interested in. So we are going to hold that under wraps for now. The agreement with the candidates so that there will still be room for us to adjust in case they want for example a holding room for example," he added.
He, meanwhile, vowed to reveal who is going to be the moderator of the event before March 19.
"Yes we have but again we are holding that under reserve. The actual moderator for the debate will be announced in close proximity to the debate itself. this will protect all the parties involved," Jimenez added.
A second presidential debate is set for April 3. (PNA)