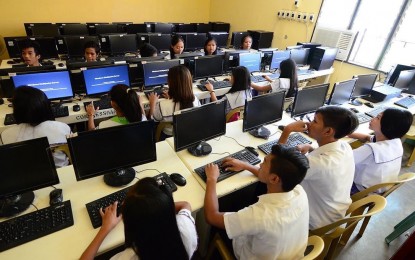 MANILA – Quite literally, investing in women-led businesses can lead to an empowered future.
From a realization that education is not accessible to many, Carmina Bayombong and her partner Ronald Replan now sustain hundreds of students through InvestEd, a social enterprise that provides loans to help unbanked youths finance their schooling.
Bayombong, the CEO and co-founder of InvestEd, said her company not only helps provide students with the necessary funding to continue their studies but also counseling and coaching to ensure they succeed from school to workforce.
"My parents broke out of poverty by getting a college degree and ever since I was growing up, they taught me that education is a very powerful tool for success but not everyone has access to it and my parents were right because when I was studying engineering in college, I saw my own friends become part of this statistics," she said.
"We've realized, I and my co-founder, that there are so many young dreamers who are poor in resources now but are very rich in ambition for tomorrow. They just need guidance and resources to achieve their whole potential," she added.
To date, InvestEd supports 2,000 students. But unlike other lenders, Bayombong said InvestEd's student loans are inclusive and "highly developmental".
"It's like a credit line but at amounts that they can afford and also allows them to lower their interest rates progressively as they achieve success milestones. We have now supported 2,000 students and helped them prevent from dropping out and about 1,500 of that is during the pandemic alone," she said.
Investment paid off
InvestEd was among the 13 women-led small to medium enterprises (SMEs) financed by Macquarie Group Foundation and the Australian government through the RISE Fund launched last November 2020.
Coinciding with the celebration of Women's Month, Australian Ambassador to the Philippines Steven Robinson AO last week reported that the funding has also generated more than 1,000 jobs in industries that are traditionally male-dominated like technology and infrastructure, agriculture, and fish and poultry trading, among others.
With PHP68 million of investments from the RISE Fund, Robinson said their local investing partners InBestCap Ventures (InBest) and Foundation for a Sustainable Society Inc. (FSSI) leveraged PHP127 million of private sector investments.
With a cumulative capital of PHP195 million for business expansion, the SMEs were able to create 1,068 quality jobs throughout the pandemic.
"This investment sought to improve women's access to, control over, and ownership of productive assets which are vital for women's economic empowerment. It's fair to say that this investment has paid off," Robinson said in a forum in Makati City last week.
"This outstanding performance proves that women's leadership should become the norm, not an exception in the post-Covid world," he added.
On top of the 13 SMEs, Investing in Women Chief Executive Officer Julia Newtown-Howes said at least five more investments would be made this year.
"I'm really excited that the Australian government is committed to a project beyond Investing in Women so we will be coming to an end in June 2023 but I understand they've got some plans after that," she said.
David Pangan, co-managing partner at InBest, admitted that there is a lot of catching up to do for SME lending in the Philippines, which is only about 3 percent of the country's gross domestic product (GDP) spending whereas it reaches about 37 percent in Thailand.
He said capital allocators and the government must do their part to improve access to financing for SMEs, especially for women entrepreneurs.
"We've seen strong women entrepreneurs that are able to tide and grow in all market conditions whether it's local or global," he said.
"This partnership with Macquarie and Investing in Women through the RISE fund is really building on success because success follows success. Whether it's invention capital or private investment, we need it to create successful business models for other investors and other entrepreneurs to follow," he added. (PNA)