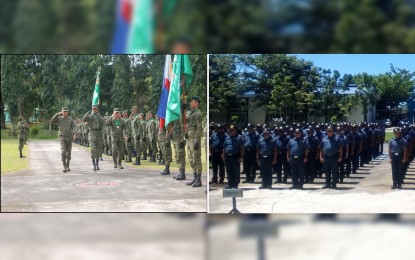 MANILA – The Department of National Defense (DND) on Tuesday urged the public to refrain from spreading unverified and misleading information regarding the status of the bill seeking to reform the pension system for military and uniformed personnel (MUP).
"The DND has taken note of false information circulating online regarding the pension of MUP. We would like to call on the public to refrain from spreading unconfirmed and misleading posts, and be discerning about the information they are consuming and sharing," Defense spokesperson Arsenio Andolong said in a statement.
He added that the MUP pension reform bill is still being deliberated in Congress and there are presently no changes in the current salary of active personnel and pension of retirees from the uniformed services.
"The salary standardization for civilian government employees under R.A. (Republic Act) 11466 (Salary Standardization Law of 2019) excludes military and uniformed personnel, as provided under Section 4(a) of the law," Andolong said.
Earlier, the DND and the Department of Finance (DOF) confirmed that the Duterte administration's proposed reform of the MUP pension system will only apply to new entrants in the service.
The reform aims to create a more financially sustainable MUP pension system.
"While the versions in Congress and Senate have yet to be finalized, the reform intends to control the looming PHP9.6 trillion worth of unfunded pension liabilities, which may continue to grow if the current scheme prevails," Andolong said.
The DOF has also cited that the MUP pension reform is about saving the pension system and is crucial to the country's post-coronavirus pandemic fiscal and economic recovery.
The Senate's discussions on the proposed reform point to the creation of a dual pension structure.
This will retain the present pension and retirement benefits system of currently active and retired personnel while applying the reform only to those who will enter the service upon effectivity of the law.
Some of the proposed changes include mandatory contributions to fund pensions, discontinuation of automatic indexation, computation of pension benefits at-rank upon retirement, adjustment of pensionable age, creation of a trust fund committee to oversee the MUP pension system, and designation of the Government Service Insurance System as the administrator of the MUP pension system. (PNA)