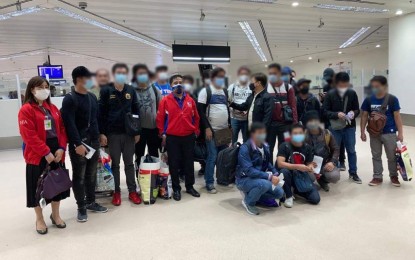 MANILA – The 21 Filipino seafarers who were extracted from war-torn Ukraine have arrived in the Philippines, the Department of Foreign Affairs (DFA) reported Tuesday.
"DFA welcomes the arrival of the 21 stranded seafarers of the vessel MV S Breeze. They crossed from Ukraine to Moldova through the assistance of Honorary Consul (Victor) Gaina," Foreign Affairs Undersecretary Sarah Lou Arriola wrote on Twitter.
The M/V S-Breeze, a bulk carrier, had been on drydock for repairs at the Ilyichevsk Ship Yard in Port of Odessa, Ukraine when Russia invaded the European nation in February.
Its all-Filipino crew members were extracted from Odessa to Moldova with the help of Gaina, in coordination with the Philippine Embassy in Budapest.
Their arrival brings to at least 63 the number of Filipinos the DFA has repatriated since tensions escalated in Ukraine.
On March 6, it also facilitated the flight of four Ukrainian nationals to the Philippines.
"As of today, 63 Filipinos have been repatriated from Ukraine while 136 have been evacuated," the DFA said.
Ukraine is under Alert Level 4, meaning evacuation for Filipinos there is mandatory "due to the deteriorating security situation".
In an advisory on Friday last week, the DFA said humanitarian corridors that would allow evacuees to exit Ukraine through borders in Moldova and Romania are also being eyed.
Filipinos who are still in Ukraine may contact the Philippine Embassy in Warsaw for repatriation via email address [email protected] or at +48604357396 (emergency hotline) and +48694491663 (office mobile number).
Those who are near the southern border of Ukraine, on the other hand, may reach the Philippine Embassy in Budapest via email address [email protected] or at +36300745656.
In a Laging Handa briefing on Tuesday, Overseas Workers Welfare Administration (OWWA) chief Hans Leo Cacdac said the government is ready to provide financial assistance to the affected overseas Filipino workers.
"We will have financial assistance, livelihood assistance, and job referrals, be it local or overseas. We are all offering these to our OFWs in the event that they decide to return," Cacdac said.
He said the government expects more OFWs will arrive from Ukraine. (with reports from Ferdinand Patinio/PNA)