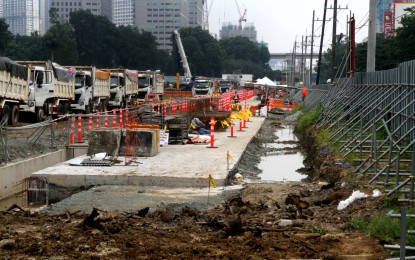 MANILA – Some 30.55 percent of the Metro Manila Subway Project (MMSP) is already complete, Department of Transportation (DOTr) Undersecretary for Railways Timothy John Batan said on Tuesday.
"Despite the effects of the Covid-19 pandemic, again, back-to-back to back major milestones were still realized despite all odds," Batan said in his speech during an inspection of the MMSP's Valenzuela depot.
He said 576 out of the 6,400 tunnel rings needed for the partial operability segment of the MMSP have been completed, with more underway at the MMSP's 7.5-hectare fabrication yard in Norzagaray, Bulacan.
The DOTr has acquired 197,000 square meters of land and 585 structures from 324 property owners as part of the project's right-of-way acquisition.
Despite this, he said there has been no "forced eviction resettlement" of the 183 informal settler families affected by the project through the help of the Valenzuela City government.
Through a right-of-way agreement signed with the Department of National Defense – Armed Forces of the Philippines (DND-AFP) in December 2020, he said the MMSP will make use of 50,000 square meters of DND-AFP land, with an additional 60,000 square meters of land for tunneling works, and additional 55,000 square meters of land for temporary works.
"This partnership forged between the DND-AFP and DOTr, under the leadership of Secretary [Delfin] Lorenzana and Secretary [Arthur] Tugade, will not only enable DOTr to fast track its access to construction and work sites needed for the subway but will also give DND and the AFP a fair and recurring source of resources," Batan said.
He said the first two out of 25 tunnel boring machines to be used in the project arrived in February 2021 while the PHP66 billion contract for the MMSP's electromechanical systems has been awarded to Mitsubishi Corporation in October 2021
The PHP27 billion contract for 240 subway train cars was awarded to the J-Trec-Sumitomo Joint Venture in December 2020.
"With today's inspection of the MMSP, we are showing how decades of 'plan, plan, plan,' how decades of 'drawing, drawing, drawing,' and how decades of talk, talk, talk' have changed to 'Build, Build, Build,'" Batan said.
The MMSP will be the country's first underground railway system and will provide mass transit in the National Capital Region (NCR)—from Valenzuela City to FTI in Taguig City, Parañaque City, and Ninoy Aquino International Airport (NAIA) Terminal 3 in Pasay City, and will further extend to the north and south of NCR.
With 17 stations—two of which are interoperable with the North-South Commuter Railway line—the MMSP is seen to reduce travel time between Quezon City and NAIA from one hour and 10 minutes to just 35 minutes. (PNA)