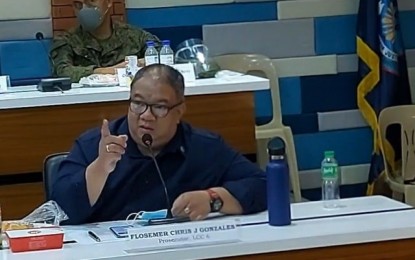 ILOILO CITY – The Western Visayas Regional Task Force to End Local Communist Armed Conflict (RTF6 ELCAC) has called on the University of the Philippines Diliman (UPD) Office of the Chancellor Executive Staff to listen to the voice of the former students, recruits, and former comrades of slain rebels Chad Booc and the Kevin Castro.
On Wednesday the task force through its spokesperson, Assistant Provincial Prosecutor Flosemer Chris Gonzales, issued a statement resenting the "baseless accusations" of the UPD Office of the Chancellor Executive Staff holding the Armed Forces of the Philippines (AFP) responsible for the death of the two.
Gonzales said many Iskolar ng Bayan would not agree with the sweeping baseless accusations against the AFP about the neutralization of Booc and Castro who died in separate encounters with the government forces in Davao de Oro and Quezon provinces on February 24 and February 21, respectively.
"You want to speak about the Chad Booc and the Kevin Castro that you want to portray from your ivory towers. However, your versions of Chad and Kevin are worlds apart from how their former students and minor recruits perceive them to be," he said.
Booc was among those arrested in Cebu City on Feb.15, 2021 for human trafficking involving several indigenous peoples (IP) children from Talaingod, Davao del Norte but was ordered released by a local court in May of the same year.
Castro, meanwhile, was an active member of the Platoon 2 (Yunit Gawaing Masa) of the Kilusang Larangang Gerilya (KLG) NARCISO of the sub-regional military area 4A (SRMA 4A) of the Southern Tagalog Regional Party Committee (STRPC), political instructor, and 3rd deputy secretary-general tasked to recruit the Indigenous Peoples in the island of Polillo and the nearby town of General Nakar in Quezon.
The spokesperson urged them to listen to Rurelyn Bay-ao, a former student of Booc in Salugpungan and Bakwit schools; and the indigenous peoples (IPs) children of Talaingod town who were recruited as well by the former.
He also urged them to listen to the former comrades of Castro at the Communist Party of the Philippines-New People's Army-National Democratic Front (CPP-NPA-NDF).
"Booc and Castro are only two among the long list of UP students and alumni who were recruited by the Kabataang Makabayan in various UP campuses nationwide, and who ended up as full time CPP-NPA-NDF cadres, and who, eventually, ended up in the casualty list in several encounters with military and police units," Gonzales added.
He said the UPD Office of the Chancellor Executive Staff has maligned the AFP with the irresponsible accusations.
The spokesperson ended the statement by enjoining them to protect their students from being recruited by the CPP-NPA-NDF terrorist organization.
The CPP-NPA is listed as a terrorist organization by the United States, the European Union, the United Kingdom, Australia, Canada, New Zealand, and the Philippines.
The NDF has been formally designated as a terrorist organization by the Anti-Terrorism Council on June 23, 2021, citing it as "an integral and inseparable part" of the CPP-NPA created in April 1973. (PNA)