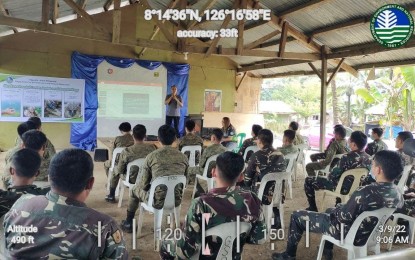 BUTUAN CITY – Around 30 members of the Civilian Armed Forces Geographical Unit Active Auxiliary (CAA) have completed a daylong education and information campaign (EIC) instruction on Wednesday, the Community Environment and Natural Resources Office Bislig (CENRO-Bislig) reported.
In a statement Wednesday, the CENRO-Bislig said the CAAs were under the command of 2nd Lt. Jan Miguel Bacuestes of the 48th Infantry Battalion's (48IB) Delta Company.
"The EIC was conducted at the company headquarters of the 48IB Delta Company in Barangay Maharlika, Bislig City, Surigao del Sur," the CENRO-Bislig said.
The agency added that the EIC was focused on existing environmental laws, rules, and regulations in the country.
The EIC was part of the ongoing five-day CAA-1 in-house training for the semester of 2022 of the CAA members under the 48IB's Delta Company.
"The one-day activity was aimed to orient the CAAs on the environmental laws and regulations as they perform their duties and responsibilities in the different areas in Bislig City and the nearby towns of Surigao del Sur under the 48IB," the CENRO-Bislig said.
It added that the five-day training is a refresher course among the CAA members of the 48IB Delta Company aimed to enhance their capabilities in their peace and development works in Surigao del Sur communities. (PNA)