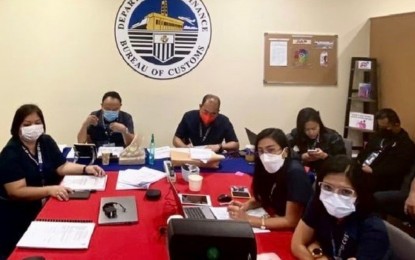 CEBU CITY – International passengers and returning Filipinos arriving at the Mactan-Cebu International Airport (MCIA) will continue to experience a world-class customs service as the Bureau of Customs-Subport of Mactan passes the surveillance audit for ISO 9001:2015 certification.
BOC-Mactan collector Gerardo Campo on Wednesday said in an interview that the subport hurdled the first surveillance audit, a requirement to maintain the certification from the international standard-setting body, conducted last month.
The virtual audit conducted by Christine Anne Formalejo and Adorable Aguilla of TüvSüd, a German auditing and certification service provider, focused on the processing of clearance for the arrival and departure operations at the MCIA.
Campo said the subport applied for ISO certification in 2021 to comply with the memorandum of Customs Commissioner Rey Leonardo Guerrero, as part of the implementation of the quality management system.
In February, the independent auditors placed them under surveillance to determine if the subport has maintained the standards it established based on the certification.
Campo cited the guidance of Guerrero and BOC-Cebu District collector Charlito Martin Mendoza, as well as from the Interim Internal Quality Management System Office (IIQMSO), in the subport's capability to defend the world-class status of its customs services.
"The focus of the ISO 9001:2015 certification is customer satisfaction. In this, we will be able to establish globally accepted standards in processing clearances for passengers and crew of international aircraft, boarding formalities, as well as clearance for international aircraft," Campo told the Philippine News Agency.
He said the subport has, so far, maintained its internationally recognized processing of payments of customs duties and taxes, strengthened border control through non-intrusive examination of baggage of travelers, expatriates, and overseas Filipino workers via X-ray machines.
"In the 100-percent examination of all the baggage, we are able to prevent the entry of contraband and smuggled goods, afford allowable privilege for OFWs and diplomatic personages, as well as to conduct an assessment to goods covered under the customs laws," he added.
Campo said the certification also promoted trade facilitation, thus giving customs brokers and importers expeditious release of their imported cargoes after presenting proper documents and payment of correct duties and taxes. (PNA)