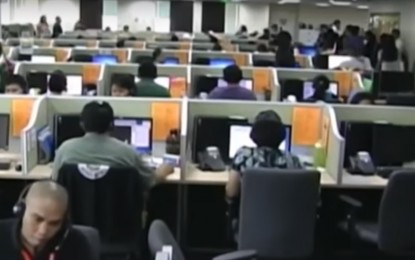 MANILA – After the rejection of the request to extend the work-from-home (WFH) set up for information technology and business process management (IT-BPM), the industry will still look into embedding this work arrangement in the long term.
On Wednesday, the Fiscal Incentive Review Board (FIRB) said it upholds the non-extension of the WFH scheme for the sector in line with the government's policy to increase mobility since the shift to Alert Level 1 in the National Capital Region (NCR) and other key cities where IT-BPM enterprises are mostly located.
The IT and Business Process Association of the Philippines (IBPAP) has accepted the fate of the industry, but it will still look into ways to include WFH or a hybrid work model in the sector's operation.
"We support the need to fully reopen the economy. But as IT-BPM employees have an overwhelming preference for a balanced, hybrid work arrangement, we are working with our government partners to provide the industry a smooth transition to onsite operations towards a WFH/hybrid model in the longer term," IBPAP president and chief executive officer Jack Madrid said in a statement.
Earlier, the industry group said IT-BPM enterprises are seeking more flexible work arrangements as the pandemic proved that the WFH or hybrid schemes work for the sector.
This would also help in improving employees' productivity and work-life balance, reduce absenteeism and attrition rate, decongest Metro Manila, and expand talent and hiring pools.
The Philippine Economic Zone Authority (PEZA) also recommended allowing IT-BPM enterprises to operate under a WFH scheme without the requirement of 10 percent on-site capacity and without diminution of fiscal incentives at least until September 2022.
In PEZA zones, there are some 297 IT parks and centers and 1,273 IT-BPO companies as of November 2021.
Their combined investments reached PHP328 billion, generating export revenue of USD11.5 billion and employing 962,304 personnel.
Including those non-PEZA IT-BPO firms, the industry employs around 1.4 million Filipinos.
Headcount increases by 7 to 8 percent annually and revenues rises by 8 to 12 percent despite the pandemic. (PNA)