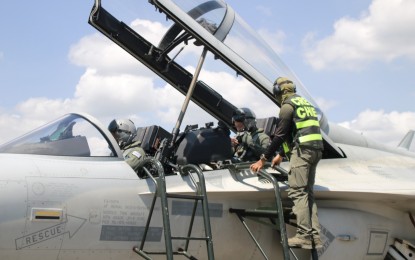 MANILA – The Philippine Air Force (PAF) on Thursday announced that the 5th Fighter Wing has successfully concluded its air combat exercise dubbed "Sanay Sibat 2022-1" which ran from February 22 to March 5.
PAF spokesperson, Lt. Col. Maynard Mariano, said "Sanay Sibat" gives 5th Fighter Wing units and operators the opportunity to evaluate doctrine, tactics, and desired tactical readiness in terms of capabilities.
"(This) was a two-week exercise of intensive air-to-air and air-to-ground activities emphasizing on mission sets for which the 5FW is expected to perform and provide both for the air defense requirement and in other employment considerations," he added.
Mariano said that "Sanay Sibat 2022-1" was a step above the previous exercises of its kind since 2018 and derived lessons learned in operating with other security partners and allies.
"This year's 'Sanay Sibat' concentrated on defensive and offensive counterair techniques, executing best tactics and dynamic coordination between capability packages and integrating these capabilities to obtain desired effects in a simulated battlespace and battlefield," he added.
Another critical component of this exercise is the skills of the air weapons controllers, the "eyes and ears" of air defense from the 580th Aircraft Controller and Warning Wing.
Command and control with the air battle managers have been seamless in performance with the fighter pilots, Mariano said.
He added the highly intensive exercise aims to build confidence and integrate leadership and warfighter culture that is able to operate both in the air and on the surface.
"The said air combat exercise was also conducted to prepare the PAF fighter pilots to operate the multirole fighter aircraft to be acquired in the near future," Mariano said. (PNA)