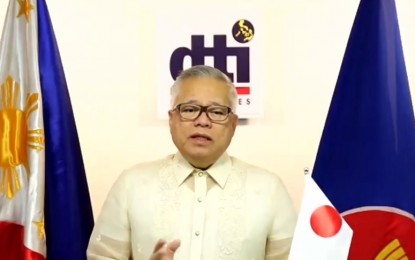 MANILA – Department of Trade and Industry (DTI) Secretary Ramon Lopez has welcomed the Asia-Japan Investing for Future Initiative that aims to strengthen investment cooperation in the Asian region.
Speaking at the 47th Asean-Japan business meeting on Thursday, Lopez said the Japan-led initiative is expected to contribute to the post-pandemic recovery efforts of Southeast Asian nations.
In January, Japan's Minister of Economy, Trade, and Industry launched the Asia-Japan Investing or Future Initiative to strengthen investments in the region in supply chains, connectivity, digital innovation, and human resources.
The initiative aims to improve the region's attractiveness as a global supply chain hub and to enhance Asia's sustainability through innovation to address social challenges.
"The Covid-19 (coronavirus disease 2019) pandemic has caused significant social and economic disruptions which have affected peoples' health, livelihoods and economic activities in the region. Indeed, there is the need to take a collective course of action to strengthen and enhance economic cooperation to mitigate the impact of the pandemic and usher in recovery efforts," Lopez said in his keynote speech.
The trade chief also highlighted that Japan has been Asean's key trade and investment partner for the past 44 years, with economic cooperation expected to be boosted through the Regional Comprehensive Economic Partnership (RCEP).
"RCEP will help restore business confidence and encourage more economic activities, particularly for MSMEs (micro, small and medium enterprises), investors, service providers, and professionals. This is a significant step forward to deepen Asean-Japan relations, anchored on ensuring economic development and growth among our peoples," he added.
Lopez also expects to bolster bilateral trade between the Philippines and Japan through RCEP, as DTI works hard to complete the ratification process of the regional free trade agreement.
"RCEP remains to be a top priority of the Philippine government as it is an important tool to sustain economic growth and attract investments in the country. Moreover, trade pacts such as RCEP will be key in reestablishing our supply chains and ensuring that even our MSMEs take part in global value chains," he said. (PNA)