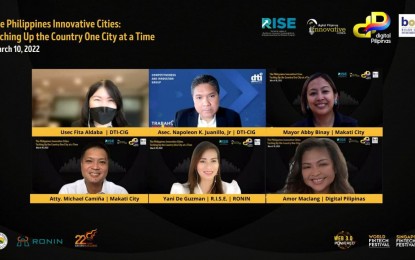 MANILA – Makati City is chosen to be the pilot city for the Innovative Cities initiative, a collaboration of public and private sector and the academe, positioning the country's prime central business district as its own Silicon Valley.
Digital Pilipinas has partnered with the Department of Trade and Industry-Board of Investments and Resilience Innovation Sustainability and Entrepreneurship (RISE) Certification Program for the Innovative Cities initiative, which aims to boost the country's innovation and technology quotient.
The initiative targets to tech up one city at a time to support local economies and expand their industries through innovation and technology.
"The only way we can collectively increase the country's technology and innovation quotient is if we localize the response to innovation and technology," Digital Pilipinas convenor Amor Maclang said during the initiative's launch Thursday.
Maclang said the partnership is eyeing to tech up the 31 cities identified by the Digital Cities Program of the Department of Information and Communications Technology (DICT).
The program aims to support the growth of digital startups in these cities.
"We are looking forward to creating a sandbox environment to inspire entrepreneurs to develop disruptive ideas and not be afraid to take risks because the DTI has put in place policies to support their journey. They say it takes a village to run a successful business. Luckily, we're bringing in the entire city of Makati and the support of national line agencies to help these businesses," Maclang added.
Investment holding firm RONIN co-founder and chief executive officer Yani de Guzman said tech startups will grow with proper access to funds and mentoring.
"What we hope to do is to provide them (startups) the PHP500,000 financial aid when they reach certain milestones to ensure that the grant is helping them create a sustainable business, develop their structures, and form a solid legal foundation for their businesses. We will show and give them an opportunity to pitch their ideas in front of qualified investors," de Guzman added.
DTI Undersecretary Rafelita Aldaba said innovation and technology also supports the country's industrial policy.
"We view these new technologies as drivers to achieve an inclusive, resilient and sustainable industrial development using new technologies like AI, augmented reality, virtual reality, robotics, and advanced manufacturing, including Internet of Things, blockchain, industrial biotech, cloud computing, advanced materials, micro and nanoelectronics, satellite and cognitive technologies," Aldaba said. (PNA)