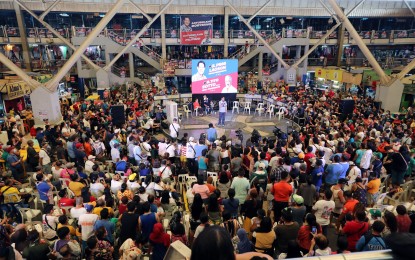 MANILA – An official of the Commission on Elections (Comelec) on Friday said it is now the right time to ease restrictions on campaign rules in areas where alert levels have been relaxed.
In a television interview, poll body spokesperson James Jimenez said they are supporting Commissioner George Garcia's proposal for more relaxed campaign rules.
Jimenez said this will also enable candidates to interact with more people and stakeholders and will also ease the poll body's preparations as the elections near.
"Well I think it's very important that (there has been a proposal) for the easing of Covid-19 restrictions because certainly, we are in a new environment now. We will, of course, give more room for more observers to pay attention to those venues that we have. Not just the servers but also talking about the National Printing Office (NPO) for example and the Sta. Rosa facility of the Comelec," he added.
Comelec Resolution 10732, issued in November last year, sets rules and regulations on the poll campaign under the new normal due to the Covid-19 pandemic.
Under the resolution, in-person campaigning is allowed in areas under Alert 1, 2, and 3 but candidates or their campaign leaders must be accompanied only by a maximum of five staff members under Alert Level 2 and three staff members under Alert Level 3.
No limit on the number of accompanying staff members for candidates is implemented under Alert Level 1.
In-person campaigning is not allowed in areas under Alert Levels 4 and 5.
The resolution also prohibits handshakes, hugs, kisses, going arm-in-arm, or any action that involves physical contact among the candidate, their companions, and the public under all alert levels.
It has also prohibited taking selfies, photographs, and other similar activities that require close proximity between the candidate and their companions, and the public. The distribution of food and drink and anything of value is also prohibited.
Meanwhile, the Local Source Code Review (LSCR) Committee will conduct a walkthrough of the data uploading process on Monday.
The event to be attended by local source code reviewers, stakeholders and media will be held at 2 p.m., at the Comelec warehouse in Sta. Rosa, Laguna.
Staying neutral
Meanwhile, the Armed Forces of the Philippines (AFP) Friday urged various groups to stop connecting the military to any political segment or agenda.
"The AFP would like to appeal to various groups and individuals alike to refrain from alluding the military organization to any political agenda," AFP spokesperson Army Col. Ramon Zagala said in a message to reporters.
He added the AFP remains a non-partisan organization that heeds only its mandate to protect the people and the state.
"The AFP leadership is firm in reminding its members to not engage in any partisan political activities prior, during, and after the election period," Zagala said.
Earlier, former Senator Antonio Trillanes IV said Vice President Leni Robredo is the most qualified for the presidency and is ready to effect reforms in the AFP as commander-in-chief with the help of national security experts who are supportive of her.
He also added that Robredo "has a clear plan" on issues of national security and sovereignty."
In an online forum hosted by 1Sambayan on Thursday, Trillanes, a former Philippine Navy officer, said former senior officers of the AFP and the Philippine National Police who are helping Robredo craft security policies "are sensible and snappy."
"Aside from being a good leader, VP Leni knows how to listen to her people. She is open to hearing the inputs of experts," Trillanes said
He said that what is most important is that Robredo "is ready to come up with a decision in the midst of various issues and contradicting opinions. (with report from Priam Nepomuceno/PNA)