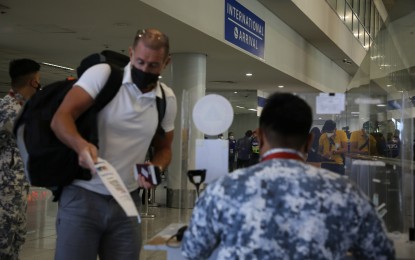 MANILA – The Philippine government is fully reopening its doors to all foreign tourists starting April 1, with the resumption of visa issuances by Philippine embassies and consulates.
In a statement, the Department of Tourism (DOT) said the new policy coincides with the total removal of arrival quota for unvaccinated passengers and the approval of a negative laboratory-based antigen test result taken within 24 hours from departure as an alternative option for arriving travelers.
"Starting April 1, there will be no limit to the number of international passengers arriving in all ports of entry in the country," it said.
At present, the initial requirement for arriving tourists is a negative RT-PCR result taken 48 hours prior to departure from point of origin.
The Inter-Agency Task Force, through Resolution 164, also allowed the entry of passport holders from Hong Kong SAR and Macau SAR for a period not exceeding 14 days.
"This latest development opens the country to all fully vaccinated tourists from all countries and means the country's tourism industry is well on its way to recovery," Tourism Secretary Bernadette Romulo-Puyat said.
READ: Negative antigen test for int'l travelers OK'd
"We at the DOT thank our colleagues in the IATF for approving such measures that will help sustain the recovery of the sector in the coming months. We have high hopes that all of these will result in an uptick in international travelers visiting the country during the summer season," she added.
The DOT also announced the reciprocal recognition of Covid-19 vaccination certificates of Croatia, Cyprus, and Nepal which are among the 157 visa-free countries.
Earlier, the Philippines reopened its doors to foreign leisure travelers from visa-free countries on February 10.
Based on DOT's data as of March 9, the number of arrivals has reached 76,736. Of this number, 43,249 are foreign tourists while 33,487 are balikbayans. (PNA)