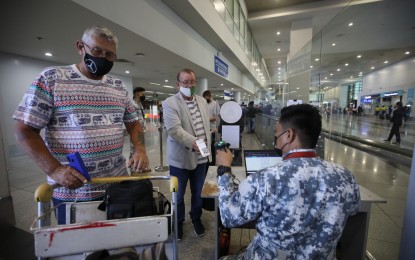 MANILA – Foreign travelers and returning Filipinos are now allowed to present a negative result of laboratory-based antigen test upon their arrival in the Philippines, Malacañang said Friday.
The Inter-Agency Task Force for the Management of Emerging Infectious Diseases (IATF-EID) made the latest move, amid the eased coronavirus disease 2019 (Covid-19) restrictions in the country.
Prior to this, international passengers entering the Philippines can only present a negative result of reverse transcription-polymerase chain reaction (RT-PCR) test.
"Previously, they just have to show a negative RT-PCR test taken within 48 hours. Now, it is either of the two – RT-PCR or antigen," Deputy Presidential Spokesperson and Communications Undersecretary Michel Kristian Ablan said in an online presser.
Under IATF-EID Resolution 160-A issued Thursday, fully-vaccinated Filipino nationals have the option to present either a negative result of RT-PCR test taken within 48 hours or a negative result of a laboratory-based antigen test taken within 24 hours prior to the date and time of their departure from the country of origin.
Fully-vaccinated individuals are no longer required to observe mandatory facility-based quarantine but need to self-monitor for any sign or symptom for seven days.
The new rule also applies to Filipinos who are unvaccinated and partially vaccinated, as well as those with unverified vaccination status.
However, those who are not fully vaccinated are mandated to undergo facility-based quarantine until the release of their negative RT-PCR test taken on their fifth day in the country. They are also required to observe home quarantine for another nine days.
For Filipino nationals who have recovered from Covid-19 but test positive prior to their arrival in the Philippines, they are required to present a positive RT-PCR test result taken not earlier than 10 days but not later than 30 days and a positive RT-PCR test result taken within 48 hours before entering the country.
Fully-recovered Filipinos returning to the country must also submit a medical certificate issued by a licensed physician to determine if they are asymptomatic or have Covid-19 symptoms.
Visa-free
Meantime, travelers from Hong Kong and Macau can now enter the Philippines sans visas, Ablan said, following the issuance of another new resolution approved by the IATF-EID.
Passport holders from Hong Kong Special Administrative Region (SAR) or Macau SAR are entitled to stay in the Philippines visa-free for a period not exceeding 14 days, according to IATF-EID Resolution 164-A approved Thursday.
Those who can visit the Philippines without visas must present an "acceptable" proof of Covid-19 vaccination and a negative result of either RT-PCR test taken 48 hours or laboratory-based antigen test taken 24 hours prior to their arrival in the country.
Their passports must also be valid for a period of at least six months at the time of their arrival to the Philippines.
Covid-19 vax certificates
The IATF-EID, Ablan said, has also approved the acceptance and recognition of the national Covid-19 vaccination certificate of Croatia, Cyprus, and Nepal.
Ablan said the Covid-19 vaccination certificates should be used for purposes of arrival quarantine protocols, as well as for interzonal and intrazonal movement.
"The Bureau of Quarantine, the Department of Transportation's One-Stop-Shop, and the Bureau of Immigration are directed to recognize only the proofs of vaccination thus approved by the IATF," he said.
The Philippines has also recognized the Covid-19 vaccination certificates issued by Armenia, Australia, Austria, Bahrain, Belgium, Canada, Colombia, Czech Republic, France, Georgia, Germany, Hong Kong SAR, India, Iraq, Italy, Japan, Kazakhstan, Kuwait, Monaco, New Zealand, Oman, Qatar, Samoa, Singapore, Slovenia, Sri Lanka, Switzerland, Thailand, The Netherlands, Tunisia, Turkey, United Arab Emirates, United Kingdom, the United States, Vietnam, Brazil, Israel, Timor-Leste, South Korea, Malaysia, Ireland, Argentina, Brunei Darussalam, Cambodia, Chile, Denmark, Ecuador, Indonesia, Myanmar, Papua New Guinea, Peru, Portugal, Spain, Azerbaijan, Macau SAR, Syria, Egypt, Maldives, Palau, Albania, Estonia, Greece, Malta, Uruguay, Romania, and the British Virgin Islands. (PNA)