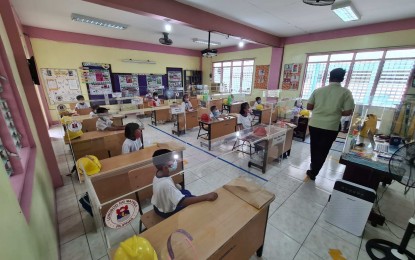 MANILA – The Department of Education (DepEd) on Friday announced its intention to participate in the 2022 cycle of the Programme for International Student Assessment (PISA) -- an international system assessment meant to provide feedback on education quality.
In a statement, DepEd said the country's participation in PISA is aligned with its 'Sulong Edukalidad' program.
"System assessments such as PISA and DepEd's National Achievement Test (NAT) provide the necessary feedback to inform policy decisions and reforms," the agency said.
According to DepEd Order No. 29, s. 2017 titled "Policy Guidelines on System Assessment in the K to 12 Basic Education Program," these system assessments are implemented to establish baselines for the basic education system and the implementation of the K to 12 curriculum, to monitor its implementation, measure the effectiveness of its instructional reforms, and generate "reliable data" for international benchmarking.
Moreover, it said system assessments would also provide bases for the improvement of educational programs and provide evidence that will aid in policymaking, planning, and programming at "the division, regional, and national levels."
"Consistency in participation in assessment allows for continuity of data for monitoring improvements and for identifying gaps as well as areas of growth for basic education," the DepEd said.
It called on parents, teachers, and other stakeholders in the education sector to support DepEd's "reforms and programs for advancing quality of education in the country.
It noted that more details on the conduct of PISA in the country will be discussed with the media after the completion of the assessment in May 2022.
According to its website, PISA was created by the Organisation for Economic Co-operation and Development (OECD) and aims to test the "skills and knowledge" of 15-year-old students in reading, mathematics, and science.
In 2018, about 600,000 students in 79 countries and economies took part in its reading-focused assessment, with the data released by the OECD on December 3, 2019. (PNA)