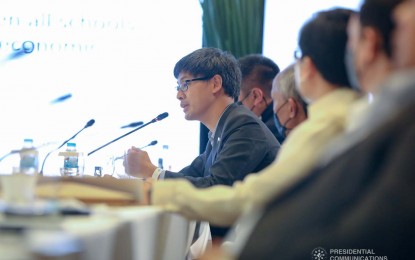 MANILA – President Rodrigo Duterte is open to all proposals to mitigate the impact of drastic increase in oil prices caused by the Russia-Ukraine crisis, Malacañang said on Friday.
Acting presidential spokesperson and Communications Secretary Martin Andanar said in an interview with CNN Philippines program "The Source" that the President had issued marching orders to "solve this looming economic crisis or perhaps lay the foundation to solve this".
The National Economic and Development Authority, Department of Finance, and Department of Trade and Industry will update the President on Monday (March 14).
"There are so many experts that we have out there. That's the advantage of President Duterte. I suppose, he listens to so many people, so many suggestions. No one has monopoly of solutions to the problems and he is very careful on deciding," he said.
Duterte's economic managers, in a Palace meeting on Monday night, pitched several measures, including suspending the collection of excise taxes on petroleum products.
In a separate virtual presser, deputy presidential spokesperson and Communications Undersecretary Michel Kristian Ablan ensured the government is "on top of the situation".
"All hands are on deck to mitigate the impact of the current situation and to provide solutions," Ablan said.
Andanar said the government is adopting a "balancing act" on the issue of oil crisis, citing the concerns of the Department of Budget and Management that the proposed suspension on the collection of fuel excise taxes would affect the delivery of social services.
"You need to consider also which services we have in government that are dependent on the excise taxes like the DOH (Department of Health), the DSWD (Department of Social Welfare and Development), and other agencies in government that get their sources of funds from the excise tax," he said.
With regard to Ukraine's appeal for Filipino businessmen to stop negotiating with Russia, Ablan said the Palace would defer to the Department of Foreign Affairs.
"Again, this is a diplomatic concern, and we will wait for the official statement from the Department of Foreign Affairs," he said.
On Monday, Duterte said he is considering calling for a special session of Congress to discuss the recommendations of his economic team. (PNA)