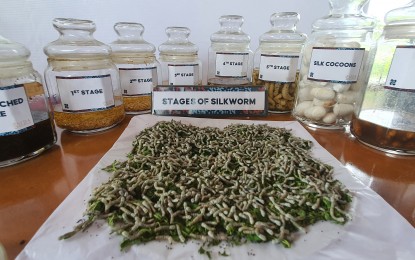 CAGAYAN DE ORO CITY – In 2020, Alfredo Angcop used a hectare of his farmland to venture into planting mulberries in Claveria, Misamis Oriental.
Months later, he started rearing silkworms.
In his town, there are 20 of them who are engaged in sericulture, but it was not easy for starters like him.
"You need to plant mulberries and grow them for at least seven months, after that you get those (silkworm) larvae," he said in the vernacular during an interview Friday.
Angcop said feeding the silkworm larvae need attention and close monitoring, a routine he had to adjust to for months, not like the other crops that he was used to.
"Mulberries are organic. They are not sprayed with pesticides, otherwise, it will affect the silkworm. In feeding them, there are required schedules, or else they will not produce thick cocoons," he said.
The mulberry farms are important as the leaves are necessary for the silkworms to feed on. They would later create a cocoon that is the source of silk materials.
For three harvest cycles, Angcop was able to sell to the Department of Science and Technology - Philippine Textile Research Institute (DOST-PTRI) in Villanueva, Misamis Oriental as he and the agency had a contract under the program "Seda Pilipinas."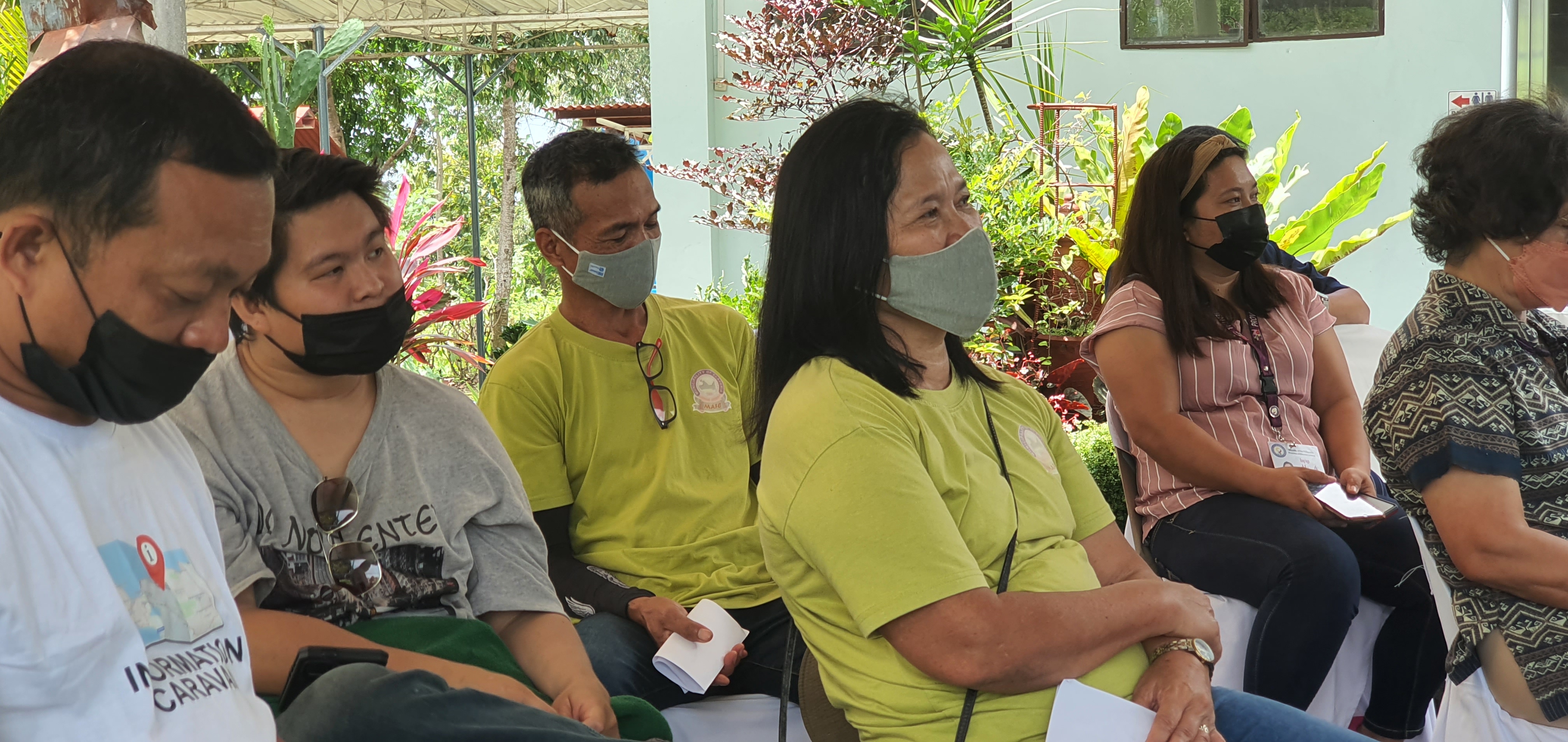 Silkworm processing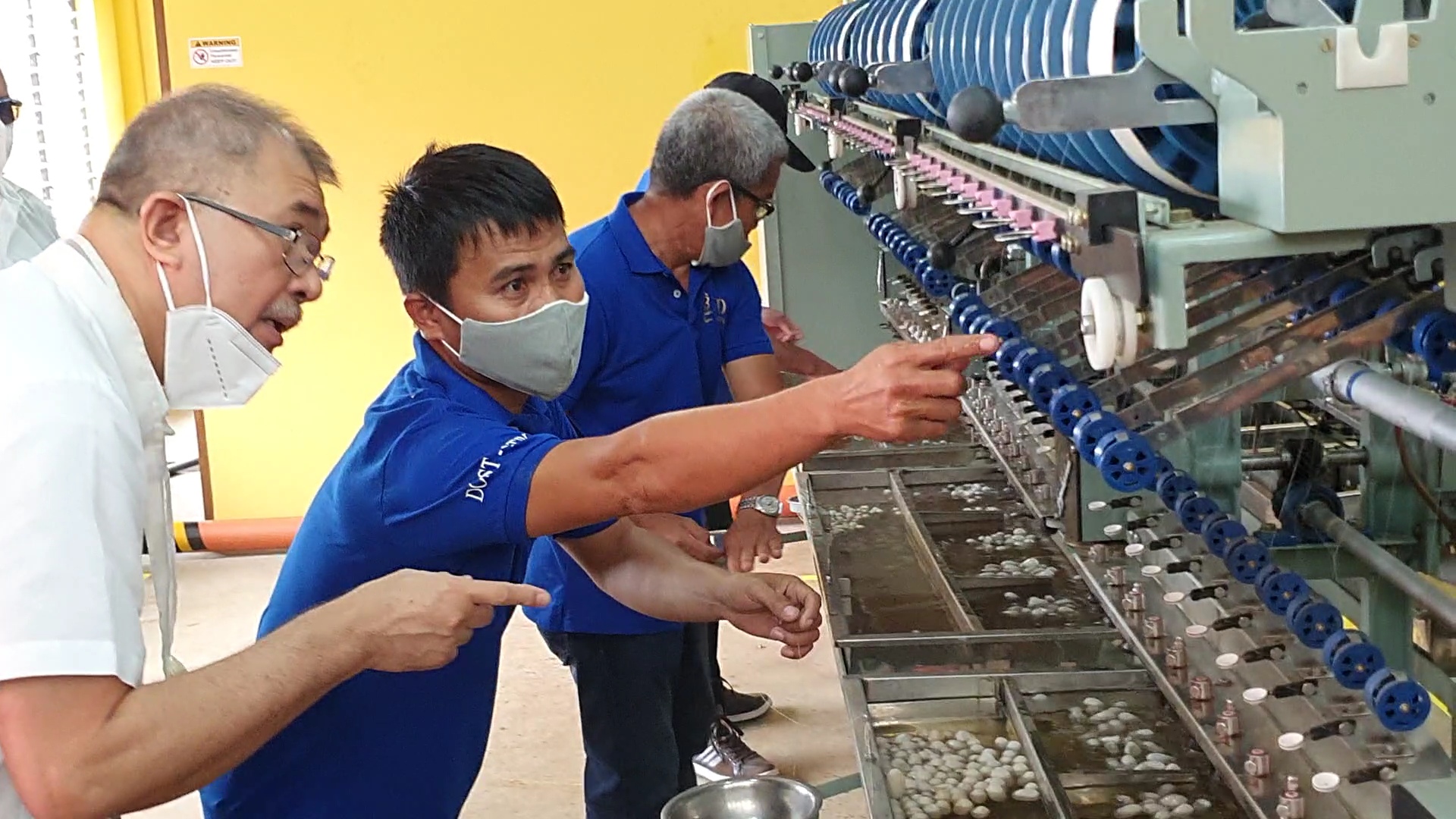 Seda Pilipinas is DOST-PTRI's Philippine Silk Road Program, which aims to help farmers and partner industries in the textile sector through science and technology training and intervention.
On Friday, DOST Secretary Fortunato de la Peña led the formal opening of its filature facility, which houses four spinning and reeling machines from India, amounting to PHP10 million.
The machines were bought last year and with the acquisition, farmers can process the silkworm cocoons into silk. Prior to the arrival of the machines, suppliers had to bring the cocoons to the Visayas for processing.
"We are aiming to upscale or increase the volumes, like this sericulture that produces silk. We are looking forward that someday, we can find more areas that can be planted (with mulberries) and expansion of sericulture production areas," de la Peña said.
He said there has been an increased demand for silk and while there are cheaper sources in other countries, he said the silk industry in the Northern Mindanao region and the country is necessary for farmers to find additional income.
Apollo Pacamalan, head of Misamis Oriental Provincial Agriculture Office, said the provincial government has committed to pouring in an additional PHP2 million worth of support for sericulture farmers with a 50-hectare mulberry farm that can aid about 200.
Women's livelihood, new partnerships
In a housing community in Barangay Balubal here, which is managed by the city government's Urban Development Division, 40 women have been engaged in sericulture since 2018.
Kris Buntag, the division's project coordinator, said 12 of them have undergone training through PTRI and other government agencies.
"These farmers are mostly mothers. Through mentoring and monitoring, we also remind them that these free programs from the government should be taken care of and they should use the resources responsibly and efficiently," she said during the program.
Buntag said that more members of the community will be trained soon by the Technical Education and Skills Development Authority.
Eventually, the hard work of the women community in Balubal, as well as Angcop's and his colleagues in Claveria, will pay off after PTRI found a private sector partner, Bayo Foundation.
The partnership between PTRI and Bayo Foundation was brokered earlier this year, with the latter committed to purchase silk from sericulture farmers in Northern Mindanao.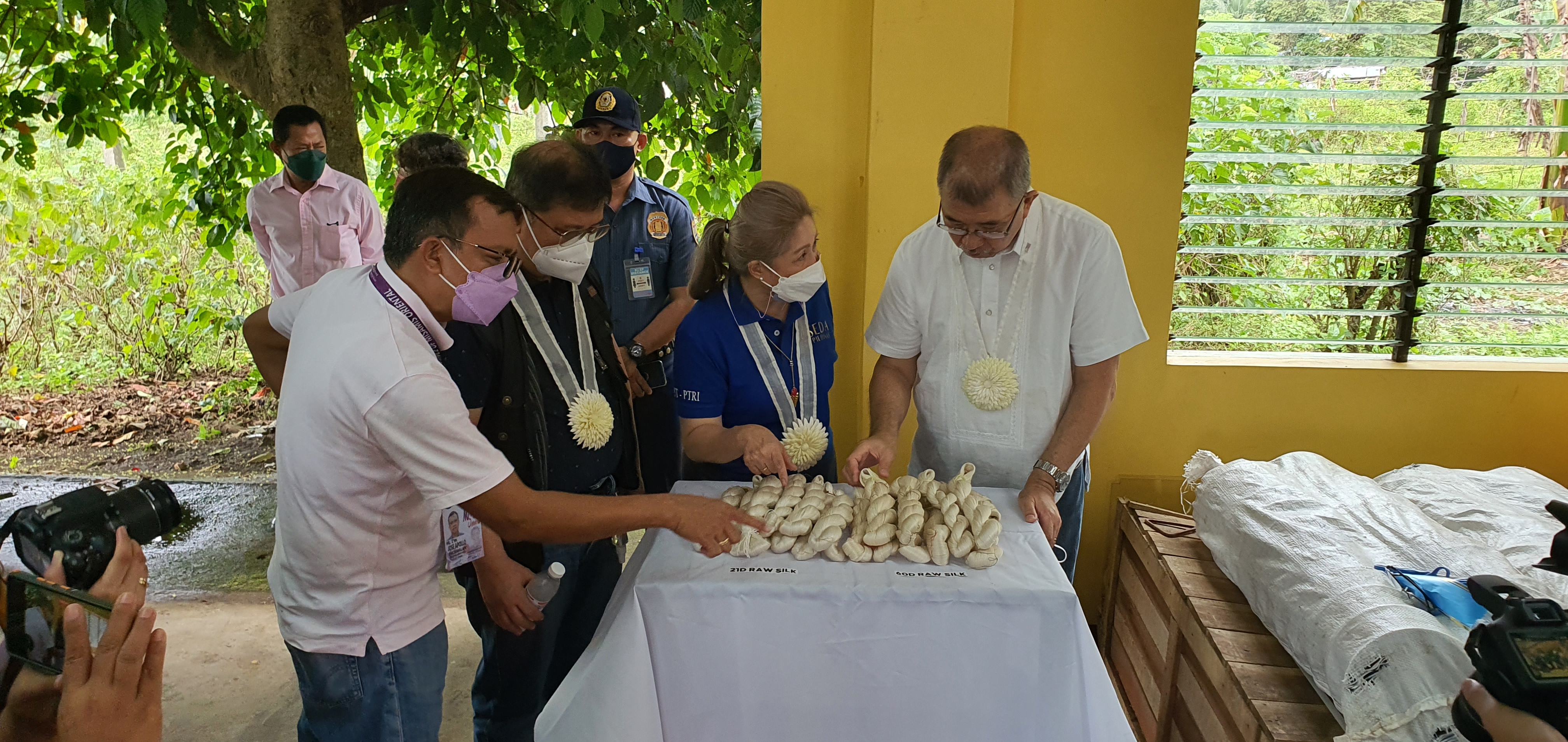 Tourism potential
In a January interview, Department of Tourism Region 10 (DOT-10) Director, May Unchuan, said the Northern Mindanao region has a bigger chance of maximizing Mindanao-based textile products, especially in the fashion industry here and abroad.
"The machine may be costly but with the help of the Department of Agriculture and local government units, we can expand the mulberry farms and silkworm population, and also train the farmers," she said.
Mimi Pimentel, a fashion designer and advocate of Mindanao-based textiles, once said that if farmers here can produce large volumes of silk, she can continue to promote the fabric abroad.
"We had a series of fashion shows abroad and we were promoting the Mindanao silk, so it clicked with international buyers, which they usually buy in bulk," she said.
Vincent Salon, Science Research Assistant at PTRI-Villanueva, said at the moment, there are 84 silkworm variants stored in their cold storage facility with 16 considered high-breed. (PNA)