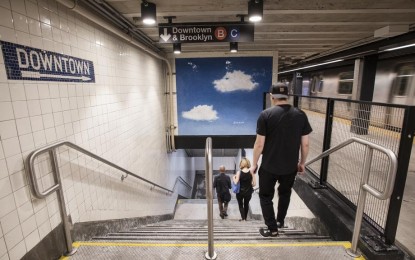 MANILA – The Philippine Consulate General in New York cautioned the Filipino community anew after recent shoving incidents that left two Filipino women injured.
In a statement issued over the weekend, the Consulate expressed concern over the latest incidents that followed similar assaults against other members of the Asian-American Community since the start of the year.
"The recent spate of attacks against Filipinos and other Asian-Americans, whether triggered by racial bias or mental illness, is a serious concern that must be immediately addressed," Consul General Elmer Cato said.
On Thursday, the Filipina who is in her late 50s, walks with a cane, and suffers from poor eyesight, was shoved down the stairs by an unidentified man at the 179th Street Station of the subway's F Train in the neighborhood of Jamaica in Queens.
On the same day, another Filipina in her mid-60s was pushed by an unidentified man at the Long Island Rail Road train platform, also in Jamaica, causing her to land on her face and break her eyeglasses in the process.
Last year, there were 23 incidents involving Filipinos that were reported to the consulate.
One of the incidents involved 58-year-old New Jersey nurse Maria Ambrocio, who was walking with a friend in Times Square in Manhattan when an alleged mentally ill homeless man slammed into her and sent her to the ground.
She was declared brain-dead the following day and was eventually taken off life support.
The 29-year-old suspect was reportedly fleeing after stealing a mobile phone. He was arrested.
Prior to the Jamaica incidents, several Asian-Americans were also at the receiving end of violence in the subways, with the latest involving an Asian man who sustained injuries after another man repeatedly struck him in the head with a hammer.
In another incident, seven Asian women were assaulted within minutes of each other by a man in separate incidents in Manhattan.
The latest incidents came less than a month after Mayor Eric Leroy Adams unveiled his Subway Safety Plan to address the surge of violence and homelessness in platforms and stations.
It has led to the arrest of 143 individuals, removal of 455 others from trains and stations, and the issuance of 1,553 tickets for various violations.
Despite the measures, New York City is still experiencing a skyrocketing crime rate with incidents rising nearly 60 percent in February compared to the same month last year.
"Mayor Eric Adams promised to make New York City safe again and we are counting on him to fulfill that promise," Cato said.
The Consulate will hold a self-defense and situational awareness webinar on March 28 to be facilitated by Black 6 Project, a humanitarian assistance group made up mostly of Filipino-American military veterans. (PR)