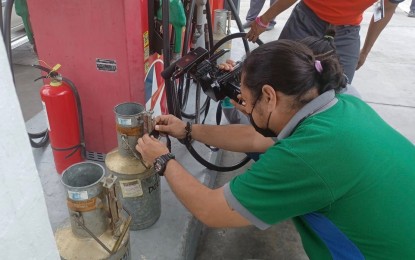 CEBU CITY – The Visayas field office of the Department of Energy (DOE) on Monday issued an advisory urging the public to report fuel hoarding in the light of the impending oil price increases brought by the crisis in Ukraine.
Lawyer Russ Mark Gamallo, DOE-Visayas director, warned hoarders on the provisions of Department Circular (DC) 2017-11-0011, the Revised Retail Rules Governing the Business of Retailing Liquid Fuels and DC 2014-01-0001, which is the Liquefied Petroleum Gas (LPG) Industry Rules.
Gamallo said Section 2(H) of Presidential Decree 1865 that amended Batas Pambansa 33 also prohibits retail outlets from hoarding fuel "before a price increase or in times of tight supply".
"Hoarding of petroleum products for retail is generally defined as refusal, or failure, to sell to the general public even when supply is available, and the customer has the ability to pay in cash," Gamallo said.
He said PD 1865 penalizes violators with imprisonment up to five years, or a fine of up to PHP50,000, or both.
The circulars issued by the energy department also provide fines and penalties to industry participants caught and proven to violate the provisions of the law.
The DOE field office issued the advisory in anticipation of impending big price increases that the industry stakeholders might take advantage of to increase their profits.
Gamallo said motorists who may be denied of fuel by gas stations despite having supply are encouraged to report it to the DOE-Visayas field office or directly to the director's office at 0915-887-3357.
Meanwhile, the field office inspectors here continue their monitoring activity of gas stations' fuel pump machines to ensure regular calibration and dispense of exact volume as paid for by a consumer.
Evander Diola, DOE-Visayas Energy Industry Management Division inspector, said part of the monitoring effort is to ensure that gas stations here are selling the correct quality of regular, unleaded, and diesel fuel based on the specifications of each fuel type.
In monitoring the quality, the inspectors collect random samples from gas stations in Cebu and place them in a technical fuel quality standards test for biofuels and bio-fuel-blend gasoline and diesel to ensure compliance with the Philippine National Standards on petroleum. (PNA)