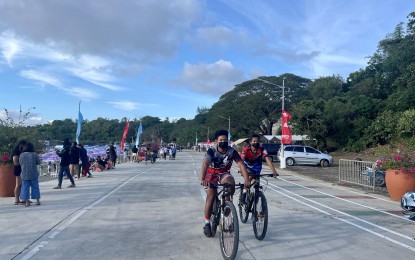 LAOAG CITY – In light of the rising cost of fuel, Ilocanos here shared some practical tips on how to cope with it.
In Burgos town, Julius Managad Castillo, 38, of the Municipal Disaster Risk Reduction and Management Office, has shifted gears from commuting via motorcycle to bicycle to save on fuel.
Managad said he has saved PHP200 in gas allowance per week since he started using his bike, which he rarely uses at home in Barangay Nagsurot, about five kilometers from his workplace.
"As of Tuesday, [the fuel price at] a local gas station in our place is pegged at PHP91 per liter," he said, adding that biking to work is more practical these days as it does not only help the environment but also improves his health.
"Biking is helpful for me as I had been diagnosed with early diabetes," he added.
For a city-dweller like Ria Pasion-Balanag of Laoag City, she said she no longer rides a tricycle when going out for errands if she can walk it out.
"I've always been a walker, so it's multi-purpose. I save on gas, tricycle fare, and more exercise," she said.
Piddig resident Ariel Paolo Tejada also shared his insights on Tuesday, saying he now switches off his car aircon and gases up at small, independent pump stations to save on fuel.
"Small gas stations sell cheaper than the branded stations," Tejada said, and advised fellow motorists to regularly check on their vehicles for correct tire pressure and good engine condition to save on fuel while driving.
A teacher from Pagudpud town, Thelma Ruiz Sacsac also added that she and her workmates have been practicing "carpooling" to work so they save on gas and just pitch in whenever they stop for a gas refill.
Instead of complaining about the rising cost of fuel, farmer-engineer John Lei Ganiron from Batac City said people should always look at the brighter side of life and practice a daily dose of positivity no matter what.
Like in Pinili town, Aileen Rambaud of Puritac village has started using her family's small farm to plant early-maturing fruits and vegetables and raise native chickens to cut on food budget.
"Let's start growing our own food in available spaces that we have at home. Just stay calm and embrace change," she said as she and her family have been enjoying a simple farm life amid the ongoing health and oil crisis. (PNA)