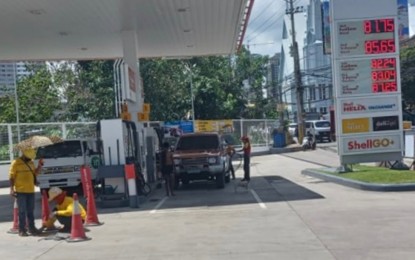 CEBU CITY – The Department of Energy (DOE)-Visayas field office chief on Tuesday encouraged private car owners to initiate fuel conservation efforts by taking public transport amid the series of oil price hikes.
Lawyer Russ Mark Gamallo, DOE-Visayas director, said there is no other way to escape the increases in fuel prices except to initiate energy conservation measures while oil prices remain unstable due to the conflict between Russia and Ukraine.
"The very least that we can do for now is to be mindful of our lifestyle. If we don't have something important to drive our car, let's skip it. To conserve energy, we can use public transportation," Gamallo told the Philippine News Agency in an interview.
However, he assured the public of the DOE's continuous monitoring of the situation to provide the public with ample information regarding the movement of oil prices in the world market.
Gamallo said the gasoline stations in Cebu province, randomly inspected by the Visayas field office monitoring team, sell their fuel and liquefied petroleum products within the reasonable prices in the industry.
"DOE cannot set the prices of fuel, you know that. What we can do is monitor unreasonable increases. But so far, we have not monitored any oil firm in Cebu. Besides, we talk to the oil companies to listen to their justification of their increase vis-à-vis the estimates from the DOE," he said.
Gamallo also explained why the increase of price in diesel is much higher by PHP5 to PHP6 as compared to the prices of gasoline, which renders a huge distortion in the pricing between the two types of petroleum.
"We have higher demand for diesel as compared to gasoline," he said.
He said oil companies in the country are experiencing a tight supply of diesel due to the continuing sanctions on some countries in South America and the Middle East as well as the current conflict between Russia and Ukraine that affect suppliers from Asia.
Although the Philippines is not directly importing crude oil from Russia, Gamallo said such countries have been the source of suppliers from South Korea, Japan, and China that export their petroleum and petroleum products to the country.
Gamallo said the DOE partnered with the Land Transportation Franchising and Regulatory Board for the distribution of the PHP5-billion Pantawid Pasada Program for public transport drivers while the Department of Agriculture is distributing subsidies to farmers and fisherfolk to cushion the impact of oil price hikes. (PNA)