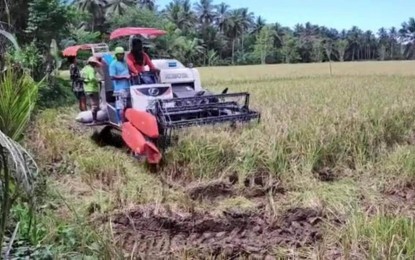 MANILA – The Department of Agriculture (DA) has been upgrading the rice farmers' methods of doing work by providing free machinery and equipment.
The Philippine Center for Postharvest Development and Mechanization (PHilMech) said some 682,502 farmers nationwide were recipients of the Rice Competitiveness Enhancement Fund's (RCEF) Mechanization Program as of December 2021.
"Our goal is to reduce the production cost of rice farmers so they can save up some for their savings and other farm needs. These (pieces of) machinery, which are given by the government for free, are meant to make the farmers' lives more convenient, work will be faster, and there will be more yield compared to manual or traditional way of farming," PhilMech Director Dionision Alvindia said in a virtual press briefer on Tuesday.
He added that his office has so far procured 19,542 machinery -- of this number, they have already distributed 16,167 machinery.
"We just need to clarify that while these are free, we call on the farmers to please join groups as we prioritize farmer cooperatives and associations as beneficiaries of the program," Alvindia added.
He also cited that these accomplishments are due to the signing into law of the Republic Act No. 11203 or the Rice Tariffication Law in 2019. It aims to ensure food security and to make the country's agriculture sector viable, efficient and globally competitive
The law created the RCEF or Rice Fund to improve rice farmers' competitiveness and income amid liberalization of the Philippine rice trade policy that lifted quantitative restrictions on rice imports and replaced it with tariffs, among others.
RCEF has a PHP10 billion annual appropriation for six years, to be allocated and disbursed to four components including the Mechanization Program which shares 50 percent of its total budget. (PNA)