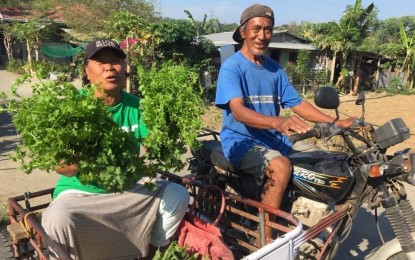 LAOAG CITY – Farmers in Ilocos Norte who are hard-hit by the big-time oil price hike will get fuel subsidies from the government to sustain their crops this summer.
Provincial Board member Domingo C. Ambrocio confirmed this on Wednesday following the passage of Draft Resolution 2022-03-465, authorizing Governor Matthew Joseph Manotoc to enter into a memorandum of agreement with various gasoline stations for the grant of gas vouchers to eligible farmers.
Ambrocio said they initially thought of giving "PHP500 worth of gas voucher to small farmers tilling non-irrigated farmlands" but with the surging prices of fuel, the provincial government plans to give more, subject to the availability of funds.
The grant of fuel subsidy as irrigation assistance to farmers has been proposed in November last year as some farmers in the province such as those from the Salbang Farmers Association in Paoay, Ilocos Norte were among the first ones to request fuel aid from the provincial government.
"As of the moment, there are 1,000 target beneficiaries of the fuel subsidy program and we hope to increase more if we receive more requests," Ambrocio said.
On top of this, the Department of Agriculture (DA) announced earlier this week that each farmer and fisherman across the country is entitled to a PHP3,000 fuel subsidy to cushion the impact of the oil price hike for the past three months.
This forms part of the initial amount of PHP500 million that the DA is expected to release to the farmers and fishers next month.
Qualified beneficiaries under the fuel subsidy program are corn farmers who use machinery for production, from land preparation to postharvest activities, and fishers who use motorized boats weighing three gross tons or smaller.
They must also be a member of registered farmers' and fishermen's associations or cooperatives and present proof that they own and operate functional machinery.
"I hope the reported fuel subsidy to farmers will reach us the soonest," said Aristotle de Lara, a corn farmer from Barangay Pila, Laoag City. (PNA)