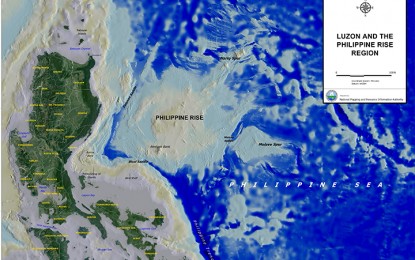 MANILA – The Department of Foreign Affairs (DFA) will lodge a diplomatic protest against intruders in the Philippine Rise, formerly known as Benham Rise, located approximately 250 kilometers east of the northern coastline of Dinapigue, Isabela, Malacañang said Wednesday.
Acting Presidential Spokesperson and Communications Secretary Martin Andanar issued the statement, after the National Security Council (NSC) reported that there are still incursions into the Philippine Rise.
"Pagdating po naman sa (When it comes to the) Philippine Rise, the Department of Foreign Affairs will take the necessary course of action which is to file a diplomatic protest," Andanar said in a virtual Palace presser.
During a Senate panel hearing held Tuesday, NSC deputy director general Rufino Lopez said the Philippine Navy and the Philippine Coast Guard are exhausting all efforts to conduct a "proper" report of the incursions into the Philippine Rise.
Lopez said the two Philippine maritime agencies have also beefed up the security efforts in the Philippine Rise to ensure that intrusion of foreign vessels conducting marine scientific research is "curbed and at least mitigated."
On May 16, 2017, President Rodrigo Roa Duterte inked Executive Order (EO) 25, renaming the Benham Rise as Philippine Rise.
Philippine Rise, a 13-million-hectare underwater plateau located off Aurora, is wider than the entire Luzon, the Philippines' largest island.
On April 12, 2012, the United Nations (UN) Commission on the Limits of the Continental Shelf confirmed that the Philippine Rise is part of the Philippines' continental shelf.
The UN commission's confirmation enables the Philippines to have sole rights to explore and exploit resources in the Philippine Rise which is believed to be rich in oil, natural gas, and minerals.
On June 12, 2021, the Philippine Air Force conducted a "solidarity maritime patrol" over the Philippine Rise as part of the commemoration of the country's 123rd Independence Day.
Last year's commemoration aims to promote marine conservation and assert the country's sovereign rights over the Philippine Rise. (PNA)