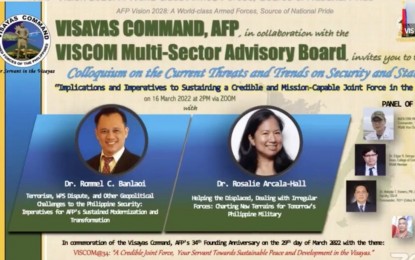 CEBU CITY – National security analyst Rommel Banlaoi on Wednesday said the security sector in the Visayan regions must be vigilant against the possible spillover of terrorist threats from Mindanao while preparing for any eventualities in the West Philippine Sea.
Banlaoi, who spoke during a "colloquium" as part of the celebration of the 34th founding anniversary of the Armed Forces of the Philippines' (AFP) Visayas Command (Viscom) on March 29, said terrorist organizations in Mindanao are still capable of staging terror attacks, citing some incidents occurring even after the Marawi siege.
He said the more than 50-year internal armed conflict brought by the Communist Party of the Philippines-New People's Army (CPP-NPA) remains a "persistent terrorist threat" in Mindanao and the Visayas.
"Terrorism in the Philippines is not disappearing. It is not disappearing because we have to understand terrorism in the Philippines in the context of our domestic security threats. Domestically, we have been experiencing prolonged internal armed conflict associated with communist rebellion initiated (and) led by the New People's Army and Moro separatist group especially the Abu Sayyaf Group, the various factions of the Bangsamoro Islamic Freedom Fighters, and other pro-ISIS elements now operating in the Philippines," he said.
Banlaoi cited history, politics, economics, social, cultural, ideological, religious, and personal reasons as underlying causes to the persistent existence of terrorist groups in the country.
He noted it was a "coincidence" that when a certain group advocated the return of the Islamic Emirate in Afghanistan, a social media account propped up, pushing for the creation of the Islamic Emirate of the Philippines that calls for support and even donations.
Banlaoi warned of different ways of perpetrating terror attacks which may be carried out using an aerial drone, "lone wolf" suicide bomber, car bombs, and even animal bombs.
"So far, all suicide terrorist attacks in the Philippines have become family affairs, thus the advent of family suicide terrorism, which inevitably involved female and their children," he said.
Banlaoi, however, said there is still a great need to strengthen the community-based approach to countering current, persistent, and emerging terrorist threats in the country while the authorities are preparing for any regional emergencies that may crop up because of the Philippines' territorial dispute with the neighboring countries.
He cited the need for the Filipino people to comprehensively understand the issues in the western seaboard, even as he pointed out the difference between the South China Sea and the West Philippine Sea.
He said it is imperative for the AFP to intensify patrols at the West Philippine Sea. "If we can patrol, we can own and control our water," he said.
Rosalie Arcala Hall, a political science professor at the University of the Philippines-Visayas, suggested a partnership among the military, government agencies and the private sector in building a stronger image towards the public.
"It's very important to take the opportunity of inter-agency mechanism," she said.
Col. Jerry Besana, head of Viscom's Governance and Strategy Management Office, said the colloquium was organized in collaboration with the Transformation Roadmap Multi-Sector Advisory Board to discuss current threats and trends on security and stability and their implications to sustaining a credible and mission-capable joint force in the Visayas. (PNA)