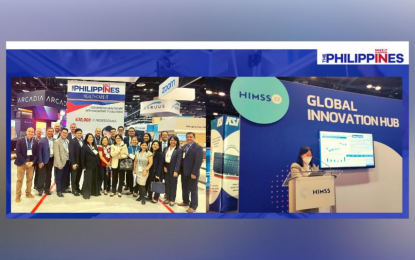 MANILA – The Philippine healthcare information management services (HIMS) sector targets to hit USD5 billion in revenues this year, higher than the USD3.1 billion revenues in 2021.
During the country's participation in the Healthcare Information Management Systems Society Conference and Exhibition 2022 (HIMSS22) in Orlando, Florida, which concluded Thursday, Department of Trade and Industry (DTI) Undersecretary Rafaelita Aldaba said the Philippines position itself to be the Asia's hub for healthcare business process management (BPM) services.
Aldaba said the country has attracted over 400 companies in the HIMS industry for the past 10 years, including small and medium-sized players.
Among the notable industry players that invested in the Philippines are Optum, Legato, and Adec.
She added the country aims to attract more investments in the HIMS sector, especially United States-based companies that offer high-value services, to sustain the growth of the Philippine HIMS industry.
"With this transformation taking place in the HIMS sector, our capacity expands to support the entire healthcare journey of patients providing complex, digitalized end-to-end customer experience services," Aldaba said.
Aladaba added the government has been pushing for initiatives and policies that will strengthen the local HIMS sector, such as the national upskilling and reskilling program, the establishment of the Center for AI Research, and the Corporate Recovery and Tax Incentives (CREATE) law.
Under the Board of Investments' Make It Happen in the Philippines campaign, the country is doing a roadshow in the US, particularly in Florida, San Francisco and Los Angeles, until March 26 to lure US investors in the HIMS industry. (PNA)