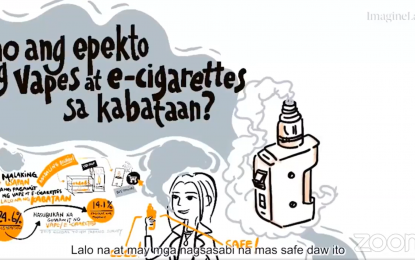 MANILA – The Department of Education (DepEd) backed the Department of Health (DOH) and other medical experts in appealing to President Rodrigo Duterte to veto the proposed Vaporized Nicotine Products Regulation Act.
In a statement on Thursday, the DepEd expressed concern over the proposed measure, saying that implementing it might pose a danger to at least 870,000 learners, aged 18 years old and above.
"As a government institution championing young Filipinos' well-being, we are taking a stand against the so-called 'anti-health' vape bill, which will weaken (the) existing law and the executive order against Electronic Nicotine Delivery Systems (ENDS) or Electronic Non-Nicotine Delivery Systems (ENNDS) commonly known as e-cigarettes or 'vapes,'" the agency said.
In a webinar, experts debunked several claims that vapes or e-cigarettes are "healthy alternatives" or effective "anti-smoking measures," calling them fake news.
"Let me get this straight, vapes and e-cigarettes are harmful and not risk-free, and similar to conventional cigarettes they contain chemicals that are highly toxic, addictive, and cancer-causing… Do not fall prey to the tactics of the tobacco industry in marketing them as healthier alternatives, because they are not," Health Secretary Francisco Duque III said.
Philippine Pediatric Society Dr. Riz Gonzales also slammed claims of other experts that the bill was designed to "prevent use by minors."
"Palagay ko baliktad. Ito talaga super, super fake news 'to, hindi natin dapat tanggapin as is. At ang nakakalungkot ang nagsabi nito harap-harapan… is another doctor (I think it's the other way around. This is super, super fake news, we should not accept this. The sad thing about this is the one who made this blatant claim is another doctor)," she said.
A study by the Philippine Pediatric Society showed that among Grades 7 to 9 students, 6.7 percent have tried and are using e-cigarettes, given the accessibility, variety of flavors, and the belief that it's safer than tobacco.
John Michael Cariazo, 24, a teacher for half a decade also shared his encounters with students engaged in vaping.
"By experience, I had students before who used the product, kahit bawal (although prohibited). Some of them tend to sneak it inside the classroom and use it in the comfort room if they have a chance," Cariazo said.
He linked their actions to either peer pressure or stress and short-term gratification.
"As a protocol, we report it to proper authorities and call the attention of their parents. Create a resolution and try to subject the reported students to a series of interventions to let the students reflect on what they've done," he added.
Trojan horse
The DOH believed the passage of the bill will counter the government's intention of intensifying regulation of the tobacco industry.
"This bill is a trojan horse to this administration's vowed policy to protect the health of the nation, especially our youth," Duque said.
Gonzales backed Duque, saying evidence suggests that the accessibility of vapes is a health threat to the youth, saying they contain dangerous chemicals including pesticides and carcinogens, among others.
"Do we want our children, do we want us to see COPD (Chronic obstructive pulmonary disease) in the young? And make them unproductive at a very young age?" Gonzales said.
She noted that the satisfaction brought by vaping might lead children to addiction, as their brains are still in a developing phase.
The oassage of the vaping bill will lower the allowable age to use vape products from 24 to 18 years old.
It will also transfer the regulation of the devices from the DOH to the Department of Trade and Industry, which the health department opposed, saying these are medical products and not consumer products. (PNA)