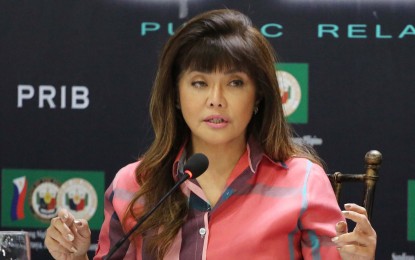 MANILA – The Commission on Elections (Comelec) officials told senators Thursday that precautions over health protocols had prompted the poll body's earlier decision to disallow the observation of printing of ballots for the May polls.
The closed-door executive session at an Intramuros restaurant was converted into a public hearing with Sen. Ma. Imelda Josefa Remedios "Imee" Marcos presiding over the second hearing of the Committee on Electoral Reforms and People's Participation.
Marcos is the sibling of presidential frontrunner candidate Ferdinand "Bongbong" Marcos Jr.
During the hearing, Comelec Commissioner Marlon S. Casquejo said the initial decision to disallow observers had been due to the pandemic but said the poll body has since considered and will now allow observation and inspection of the ballot printing process.
"We apologize for that. That was the time when Covid (cases) were very high and it happened that the printing process we had to stop operation. But then again, that is not an excuse. That is why we are trying to rectify it," Casquejo told lawmakers.
Aside from live streaming the printing process, Casquejo said the poll body
will allow political parties representatives and accredited citizens' arms to select, observe and examine the ballots after guidelines are set up.
Casquejo added that the measures for transparency must be balanced and undertaken without compromising the security of ballots.
Meanwhile, Commissioner George Erwin M. Garcia reported to the Senate that out of 67,442,616 ballots that need to be printed, some 49,737,783 or 73.7 percent of ballots have been printed.
However, of that number, only 31,969,605 have been determined to be good ballots.
Garcia said some 5,288,268 ballots were initially declared defective but later declared that only 3,344,323 turned out to be good ballots.
He said the quality control process involves colors and sizes as well as acceptability to the machines which would process the ballots.
Likewise, present during the hearing were Senate President Vicente Sotto III, Sen. Cynthia A. Villar, and Sen. Aquilino "Koko" Pimentel III. (PNA)