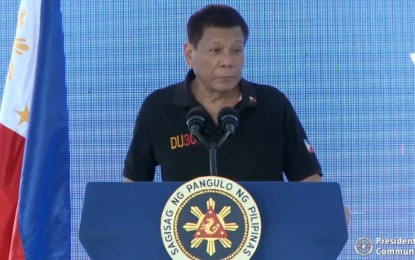 MANILA – President Rodrigo Duterte on Thursday once again defended his anti-narcotics campaign, saying he could not stomach the "horrible" acts perpetrated by drug offenders.
"Sisirain mo ang bayan ko (You will destroy my country). That's the thing they do, horrible," Duterte said in a speech delivered in Palo, Leyte.
The President issued the statement, reiterating that he would not allow himself to be tried by the International Criminal Court (ICC) over killings associated with his campaign against illegal drugs.
He also maintained that he would only cooperate if the investigation was carried out by a Philippine court.
"I am a Filipino. If I am accused of something, it must be within the jurisdiction of the Philippines. If I am tried, it should be before a Filipino judge and ang (the) prosecutor must be a Filipino like me," Duterte said.
Duterte, in a speech delivered in Ilocos Sur on March 4, expressed hope that his successor would continue his fight against illegal drugs.
In November last year, the ICC suspended its investigation into the alleged crimes against humanity associated with Duterte's drug war to assess "the scope and effect of the deferral request" of the Philippine government.
A month before the suspension of the probe, ICC prosecutor Karim Khan promised that the investigation into Duterte's anti-narcotics drive would "uncover the truth and aim to ensure accountability."
Duterte in March 2018 ordered the Philippines' revocation of the Rome Statute that created the ICC after former prosecutor Fatou Bensouda continued with the preliminary examination into his drug in February of the same year.
The Philippines formally cut ties with the ICC on March 17, 2019, or exactly a year after the scrapping of the Rome Statute.
Despite the Philippines' withdrawal, Khan earlier said the ICC "retains jurisdiction" with respect to alleged crimes that happened in the country while it was a state party from Nov. 1, 2011, to March 16, 2019.
The ICC's investigation covers the conduct of the drug war under Duterte's watch, as well as alleged killings in Davao City between 2011 and 2016 when the President was still the mayor. (PNA)