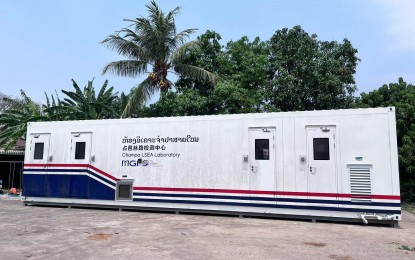 MANILA – Shenzhen, China-based MGI Tech Co., Ltd. is eyeing to put up container laboratories in the Philippines for coronavirus disease 2019 (Covid-19) screening to enhance the country's testing capacity.
In a statement on Friday, MGI said this is part of the company's expansion in Southeast Asian countries by bringing container labs in Laos, Malaysia, the Philippines, Singapore, and Thailand.
MGI has already brought this innovation to Laos by establishing the Champa Life Science Economy Alliance (LSEA) Laboratory in Champassak province.
The project, which costs USD11 million, is a 12-meter long shipping container that uses an MGI automation system that can process 30,000 samples in a day in a pool testing setup.
"The container lab was designed to be easily transported and quickly deployed in stadiums and sports fields, community and district hospitals, health departments, or wherever appropriate in emergency situations where mass testing is required, reducing both the time for sample transportation and the travel time for local patients who need to quickly get PCR-tested and go," MGI said.
The container laboratory consists of two high-degree automation systems, MGISP-960 and MGISTP-7000. These automation systems also decrease the need for manpower and manual work and shorten the turnaround time for test results.
"Since the start of the pandemic, MGI has been playing an instrumental role in the fight against Covid-19 by allowing communities and governments to scale up their testing capacity and increase their testing efficiency while ensuring a safer working environment for frontline health workers," MGI Asia Pacific general manager Dr. Roy Tan said.
Two months after the onset of the pandemic, MGI brought to the Philippines its Covid-19 testing laboratory at the Jose B. Lingad Memorial Regional Hospital in San Fernando City, Pampanga.
The laboratory can conduct up to 10,000 samples a day. (PNA)