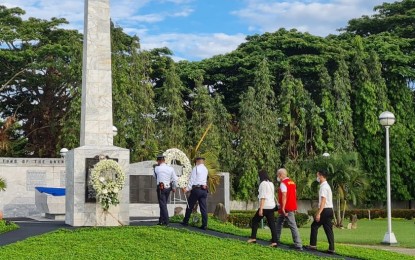 ILOILO CITY – Iloilo Governor Arthur Defensor Jr. on Friday asked the people to always hold dear "the value of freedom and democracy which we shall always uphold and fight for".
This as Ilonggos honored their war veterans whose selfless service and patriotism led to the liberation of Panay, Guimaras, and Romblon provinces from the Japanese Imperial Forces 77 years ago.
A sunrise flag-raising and wreath-laying ceremony at the Balantang Memorial Cemetery National Shrine in Barangay Quintin Salas in Jaro district here, Eucharistic mass, and a film showing highlighted the short "Victory Day" celebration facilitated by the Philippine Veterans Affairs Office (PVAO) and the city and provincial governments of Iloilo.
During the ceremony, wreaths were offered to the tombs of unknown soldiers, of Gen. Macario Peralta Jr. and wife Natividad, and to the wall of memory containing the names of 1,421 casualties of the 6th Military District Panay Guerilla Freedom Fighters in World War II.
Gen. Peralta was a recipient of the Gold Cross Medal for gallantry in action in Panay for leading his men against the Japanese soldiers.
Veterans Federation of the Philippines -Western Visayas (VFO R6) president Hannibal Lipardo, in a media interview, said this was not just a mere celebration as it honored and gave importance to veterans who helped liberate the country from the Japanese forces.
"This is important because we gained our freedom from the Japanese forces. I am proud to be a son of a veteran," he said, adding that his father was wounded a day before the final assault on the Japanese forces in Tigbauan Iloilo on March 18, 1945.
Iloilo Governor Arthur Defensor Jr., in his virtual message, hoped that while the hardship and sacrifices of war veterans are remembered, "... may this serve as inspiration for us to strengthen our sense of patriotism and love for our country."
Mayor Jerry P. Treñas, also in a virtual message, said that Ilonggos should be proud that Iloilo City happened to be the place with the most successful resistance movement during the war against the Japanese forces.
"We may have a hybrid celebration today caused by the restrictions by this pandemic but our courage and virtues as Ilonggos are unwavered. It is the same courage and bravery that made us victorious 77 years ago that will help us achieve great things, most especially at this challenging times," he said.
Proclamation No. 430 signed by President Corazon Aquino on July 21, 1989 declared March 18 of every year as non-working special day in Panay, Guimaras, and Romblon to give way to the celebration. (PNA)