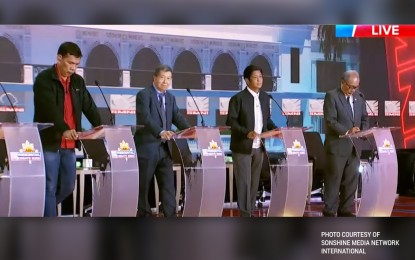 MANILA – Presidential aspirants must bare their stand on constitutional amendments during the debate organized by the Commission on Elections (Comelec) at Sofitel Tent in Pasay City this weekend.
Pampanga (3rd District) Representative Aurelio Gonzales Jr. said he would like to hear the candidates' thoughts regarding the proposals to make changes in the Constitution, particularly the five-year term with reelection for the president, instead of a single six-year tenure, and tandem voting for president and vice president.
He said the proposed two terms would allow a chief executive to seek reelection and to implement and pursue his programs over a 10-year period.
"It will provide continuity for a president who is attaining economic progress and development, and peace and a better life for our people," he said in a statement on Friday.
He explained that an unpopular president could be voted out of office after five years, instead of the nation waiting for another year for his six-year stint to expire.
He said there is "a lot of interest and support" for his proposals on Charter amendments among his colleagues in the House of Representatives and local officials and their constituents.
"So we would like to know the views of our candidates on our advocacies," he said.
To avoid accusations of self-interest on the part of Cha-cha (Charter change) proponents, Gonzales proposed that elected officials who are on their last terms in office should be banned from running in the first election in case the amendment succeeds.
He vowed to refile his political Cha-cha resolution during the 19th Congress if he gets reelected for a third and last term.
The presidential and vice-presidential debates on March 19 and 20, respectively, will start at 7 p.m.
Comelec Commissioner George Erwin Garcia said the debates would enable the voters to be aware of who they are voting for and their qualifications.
"We will ensure that we will be able to do it impartially, fairly, at the same equal opportunity for everyone to talk to the voters," he said.
All but one of 10 presidential candidates confirmed their attendance on March 19 -- Ernesto Abella, Leody de Guzman, Manila Mayor Francisco "Isko Moreno" Domagoso, Norberto Gonzales, Senators Panfilo Lacson and Manny Pacquiao, Faisal Mangondato, Dr. Jose Montemayor Jr., and Vice President Leni Robredo.
Perennial survey frontrunners Ferdinand Marcos Jr. has declined while his running mate, Davao City Mayor Sara Duterte, previously said joining debates would not be part of her campaign. (PNA)