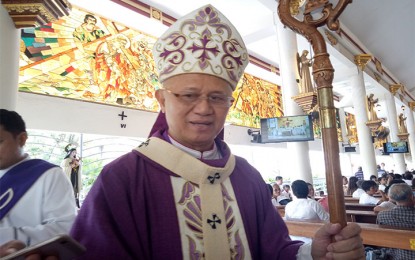 CEBU CITY – The Roman Catholic Church in Cebu will strive to send a delegation to the World Youth Day 2023 in Lisbon, Portugal, according to Archbishop Jose Palma on Friday.
Palma, who led the launching of the "500 Days to World Youth Day 2023" at the Special Pastoral Formation Year (SPFY) Function Hall of the Archbishop's Residence compound, said this global celebration of the youth is very special to Pope Francis.
"I really pray that those who have not attended would participate given the possibility. Let's try to do it. Having participated for instance in Rome or Rio de Janeiro, this is an experience of faith of young people, of being one big family and of the way we proclaim God in our midst, and being all children of God, celebrating fraternity as one big family," Palma said.
Palma said he is also planning to go with the delegates, citing their significance as "the present and the future of the church".
"The youth is not only the future. They are the future of the church, we say. But we also say that the youth is the present and the future, to underline the significance and your role and your power, and your contribution to the church," Palma said.
Fr. Andrei Ventanilla, the archdiocesan commission on youth director, said the local and national celebration of the world youth day will welcome young individuals from other faith.
He said although the international delegates for the youth gathering in Lisbon will adhere to the rules and regulations of the main organizing body, the Philippine version of the celebration would be open to the youth who are non-Catholics.
Ventanilla said apart from being a gathering of young people all over the globe, World Youth Day is considered a pilgrimage and celebration of the youth, as well as an expression of "universal church and intense moment of evangelization for the youth".
"Although it has a Catholic identity, we'll open its door for everyone, no matter how distant from the church they are," he said.
"It's not just a gathering of Catholics, it is a gathering of youth in the world regardless of faith," Ventanilla added. (PNA)