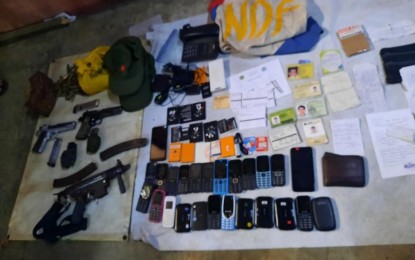 BACOLOD CITY – A leader of the Communist Party of the Philippines-New People's Army (CPP-NPA) in Negros Island and his two comrades were arrested during a joint military and police operation in Barangay Su-ay, Himamaylan City in southern Negros Occidental on Friday.
The Philippine Army identified the suspect as Ramon "Using" Patriarca, deputy secretary and finance officer of Komiteng Rehiyon-Negros. He is facing 10 counts of murder before the Regional Trial Court Branch 47 in Tagbilaran City, Bohol, with a warrant of arrest issued by Presiding Judge Suseco Arcam.
The two others were Carmen "Loisa/Avon" Jonahville Matarlo, of the Regional Communication of Central Negros Front 2; and John Michael Baldonado Tecson, also known as Calvin/Clent/Harold/Getic, of the Regional Communication of Central Negros Front 1.
Matarlo is from Poblacion Argao in Cebu province while Tecson hails from Barangay Bulado, Guihulngan City in Negros Oriental.
In a statement on Saturday, Maj. Gen. Benedict Arevalo, commander of the 3rd Infantry Division, said the neutralization of Patriarca and his two comrades is another huge blow to the CPP-NPA.
"They may have been very quick to release propaganda denying their losses and setbacks, but with this development, they can no longer deny the weakening of their forces in Negros Island," he said.
Personnel of Himamaylan City Police Station served the arrest warrant to Patriarca during a law enforcement operation supported by troops of 94th Infantry Battalion (94IB) in Sitio Tondo at around 4 a.m.
His two companions were brought along and are now under police custody.
In a report, the 94IB said government forces responded to the information provided by village residents, who have been complaining about the CPP-NPA's extortion and recruitment activities in their community.
The communist rebels yielded hand grenades, short firearms, a KG-9 submachine gun with magazines, 310 pieces of AK47 live ammunition, several mobile phones, subversive documents, and a National Democratic Front (NDF) flag, among others.
Both Brig. Gen. Inocencio Pasaporte, commander of 303rd Infantry Brigade, and Lt. Col. Van Donald Almonte, commander of 94IB, thanked the residents of Barangay Suay for cooperating with the government troops by providing them accurate information on the activities of the CPP-NPA.
"We commend the dedication to duty rendered by the troops of 94IB and Himamaylan City police," Pasaporte said.
"The government forces are working together to end the local communist armed conflict in central Negros. Surrender now, before your time runs out," Almonte told the CPP-NPA rebels.
The CPP-NPA is listed as a terrorist organization by the United States, the European Union, the United Kingdom, Australia, Canada, New Zealand, and the Philippines.
The National Democratic Front (NDF) has been formally designated as a terrorist organization by the Anti-Terrorism Council on June 23, 2021, citing it as "an integral and inseparable part" of the CPP-NPA created in April 1973. (PNA)