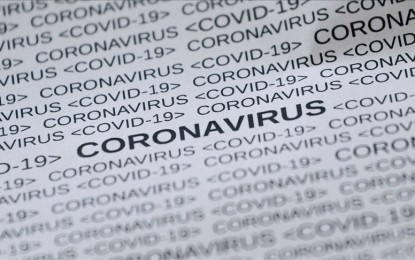 MANILA – The Philippines remained at "very low risk" classification for Covid-19 while countries in East Asia are experiencing a surge in new cases, the OCTA Research Group said Sunday.
In a tweet, OCTA Research Group Fellow Dr. Guido David said the country's average daily attack rate (ADAR) is 0.47 as of March 18.
The growth rate is at minus 22 percent and the seven-day average of new cases is at 527 per 100,000 individuals.
Timor-Leste, Taiwan, Cambodia, and China are also "very low risk" for Covid-19.
Their ADARs range from 0.13 to 0.86 while their seven-day average of new cases range from 2 to 1,885.
South Korea, Vietnam, Hong Kong, Malaysia, Singapore, and Brunei are classified as severe based on their ADAR, which is the average number of cases in a week per 100,000 people.
South Korea and Vietnam have high ADAR of 788.15 and 281.52, respectively, while their growth rates are at 42 percent and 38 percent, respectively.
Brunei, also "severe", has an ADAR of 482.60 but growth rate (new cases for the week compared to the previous week) is at minus 43 percent.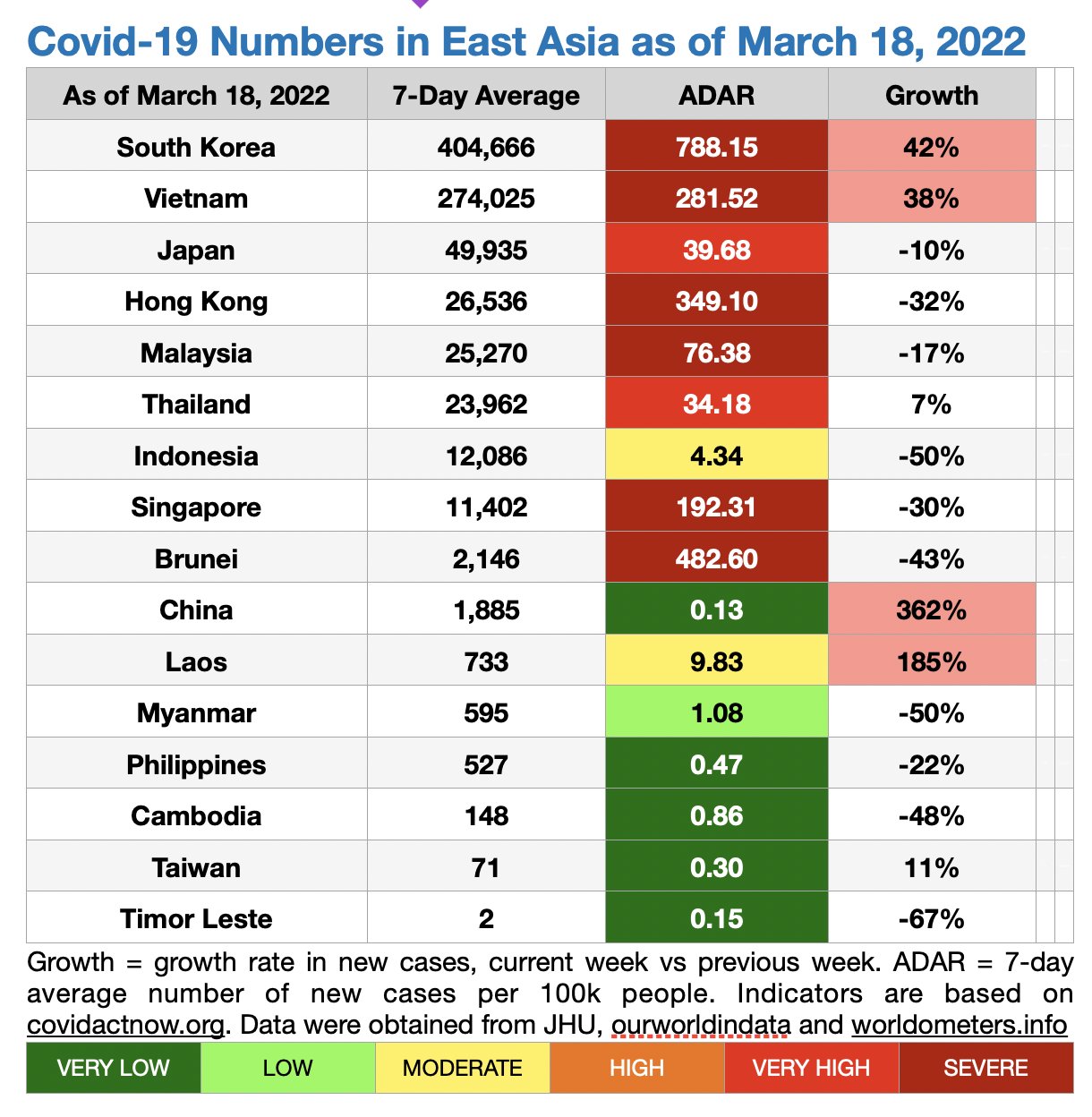 In terms of growth rate, China is at 362 percent while Laos is at 185 percent, although they are still classified as "very low" and "moderate", respectively, as their ADAR are at 0.13 and 9.83, respectively.
For the past week, South Korea had 404,666 new cases and Vietnam 274,025.
Vietnam will host the 31st Southeast Asian Games on May 12 to 23, with about 10,000 athletes from 11 nations participating.
Organizers said strict protocols will be implemented, including limiting or barring spectators who would want to witness the 526 events in 40 sports.
The biennial meet was reset from its original schedule November 21 to December 2 last year due to the pandemic.
Keeping it down
Based on the latest Department of Health data, there were 4,131 new Covid-19 infections from March 7 to 13 while intensive care unit bed utilization is at a mere 19.6 percent as of March 14.
The Philippine National Police (PNP) said it will remain active in imposing minimum health protocols and reminded visitors in tourist spots to prioritize their protection.
Vacationers should expect the presence of cops, help desks, and assistance posts in areas of convergence like beaches and churches during the Holy Week, according to PNP spokesperson Col. Jean Fajardo.
"Don't forget to always wear face masks and practice social distancing wherever you go," she said in a radio interview on Sunday.
Of the estimated 17,000 to be deployed by the PNP, about 5,000 will be on foot and bike patrol in more congested areas such as Boracay and passenger terminals.
Fajardo said they will be assisted by more than 42,000 force multipliers and volunteers.
"Inaatasan na rin ang mga field commanders na makipag-ugnayan sa mga local chief executives po natin lalong lalo na dito sa ating mga local tourism offices para po masiguro na magiging ligtas ang ating mga turista, both local and foreign. Aasahan din natin ang pagdagsa ng ating mga turista lalong lalo na ngayon na halos wala ng restriction, kung meron man ay very minimal na ang restriction pagdating sa travel and movement (Field commanders are also instructed to coordinate with local chief executives, especially in the local tourism offices, to ensure that our tourists will be safe, both local and foreign. We will also expect the influx of our tourists especially now that there are almost no restrictions. If there are any, the restrictions are very minimal when it comes to travel and movement)," she said. (PNA)