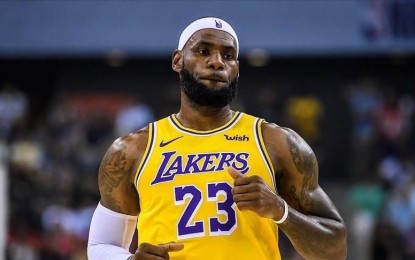 ANKARA – Los Angeles Lakers superstar LeBron James scored 38 points against Washington Wizards on Saturday and became NBA's second all-time highest scorer.
The Lakers faced a 127-119 loss to the Wizards at Washington's Capital One Arena, but it was a historic night for James.
The 37-year-old small forward tallied 36,947 career points in 1,363 games to surpass Utah Jazz legend Karl Malone on NBA's all-time scoring list.
Malone, 58, who was a longtime Jazz power forward, scored 36,928 in 1,476 games and ranks third currently.
Four-time NBA champion James now trails only Kareem Abdul-Jabbar.
NBA great Abdul-Jabbar, 74, scored 38,387 points in 1,560 games to be the league's all-time top scorer.
A former Miami Heat and Cleveland Cavaliers forward, James should score 1,440 points to equal Abdul-Jabbar's record.
On Saturday evening, James displayed a stellar performance for the Lakers with 38 points, 10 rebounds and six assists.
Lakers point guard Russell Westbrook scored 22 points, took 10 rebounds and made eight assists.
Malik Monk added 17 points for the losing team.
For Wizards, seven players scored in double digits.
Latvian forward-center Kristaps Porzingis led the Wizards, scoring 27 points.
Washington guard Kentavious Caldwell-Pope scored 18 points and grabbed 10 rebounds.
Wizards duo Deni Avdija and Daniel Gafford clocked up 17 points each.
The Wizards have 30-40 win-loss record to be in the 11th position in the Eastern Conference standings.
The Lakers won 30 games but lost 41 others to rank ninth in the West.
Other results: Minnesota Timberwolves - Milwaukee Bucks: 138-119; Charlotte Hornets - Dallas Mavericks: 129-108; and Cleveland Cavaliers - Detroit Pistons: 113-109. (Anadolu)