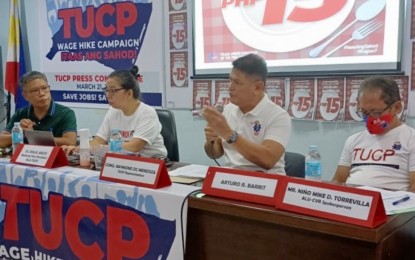 CEBU CITY – The Trade Union Congress of the Philippines (TUCP) on Monday filed a petition before the Regional Wages and Productivity Board-Central Visayas (RTWPB-7) for a PHP430 increase in the daily minimum wage in the four provinces of the region.
In its eight-page petition, the group asked RTWPB-7 to grant the increase for all private-sector workers, citing that its last petition was filed in 2019. The grant that became effective on Jan. 5, 2020, granted only an PHP18 increase in the minimum wage.
Raymond Democrito Mendoza, TUCP president and TUCP Party-list representative, said in the petition "the meager PHP18 increase has long been dissipated by the high costs of basic goods and services, even before it could be felt by minimum wage earners".
Mendoza said the purchasing power of the current minimum wage at PHP404, based on government figures, is only PHP371.32.
"That with government-mandated deductions, the nominal take-home pay of minimum wage earners in Region 7 is a measly PHP371.69 per day with a purchasing power of only PHP341.63," he said.
The labor group leader cited the current inflation caused by the increases in prices of petroleum brought by the crisis between Ukraine and Russia, which has created a ripple effect towards the labor sector that is dependent on wages.
The petition also said that minimum wage earners suffered the most from "the increasing cost of living and the imposition of TRAIN (Tax Reform for Acceleration and Inclusion) law, and the economic impact of Typhoon Odette in December 2021.
It also cited the Philippine Statistics Authority study which showed that the per capita poverty threshold in Central Visayas in the first semester of 2021 was pegged at PHP16,295, as compared to the current monthly minimum wage of PHP10,504, with a purchasing power of PHP9,654.41.
Eva Arcos, TUCP's national vice president and resident economist, explained in a press conference before the filing of the petition that with the PHP6,749 food threshold from the current take-home pay of PHP9,663.94, the estimated budget for a meal per person in a family of five would be around PHP15, which is way below the PHP61.17 ideal cost of meal person, based on the Department of Science and Technology's (DOST) "Pinggang Pinoy" (Filipino plate) model.
"Our workers and their families deserve to live and to live with dignity. They need the wage adjustments now or they will continue to live in destitution. As a civilized society, we cannot and should not perpetuate the miserable conditions of our workers and their families," Mendoza said in a separate statement.
He said the timely wage increase will address malnutrition and imminent hunger of the workers and their families. "We are fighting for a wage adjustment that will also cover the increasing costs of non-food items which are also necessary to the daily lives of our workers and their families," he added. (PNA)