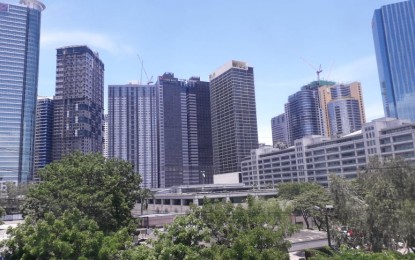 MANILA – Some of the country's biggest business groups and companies have expressed their support to the government's push for employees to return to their workplaces as this will pump-prime the economy, which has yet to get back from the pre-pandemic level.
"We now look forward to heightened business activity which will benefit the entire nation and spur its return to economic wellness. The path to recovery, we aver, begins with the presence in the business and commercial centers of our country's workers," the multi-sectoral group from various industries said in a statement Monday.
The statement was signed by top executives of Chamber of Real Estate and Builders' Association, Federation of Filipino-Chinese Chambers of Commerce and Industry Inc., Financial Executives Institute of the Philippines, Go Negosyo, Management Association of the Philippines, Philippine Constructors Association, Philippine Retailers Association, Philippine Chamber of Commerce and Industry, and Resto Ph.
It was also signed by executives from big firms including Ayala Land Inc., Megaworld, Robinsons Land Corp., and SM Prime Holdings Inc.
The private sector said the high vaccination rate in Metro Manila and low coronavirus disease 2019 (Covid-19) cases nationwide should provide confidence in returning to workplaces.
Minimum public health protocols are also in place to provide protection in contracting the virus.
The multi-sectoral group cited that following the boost in vaccination rates since November 2021, mall foot traffic hit a high of 63 percent of its pre-Covid level, while fast food traffic reached 78 percent of its 2019 level.
On the other hand, the Metro Rail Transit recorded 243,845 daily passengers, or 69 percent of the ridership level before the pandemic.
"Economic momentum has been established and we are now within easier reach of the prosperity we all enjoyed in 2019. We encourage the public to now venture out of their homes while still maintaining safety protocols," they added.
The business groups and big firms said displaced industries during the pandemic can be restored once employees return to the business centers as it fuels confidence among enterprises.
The statement said the pandemic has affected 423,075 workers in the construction industry; 464,841 in the accommodation and food services sector; 492,067 transportation and storage workers; and 1.1 million tourism workers.
"Fully occupied business districts and commercial centers indeed represent a welcome and collective milestone for the economy," the statement read. (PNA)