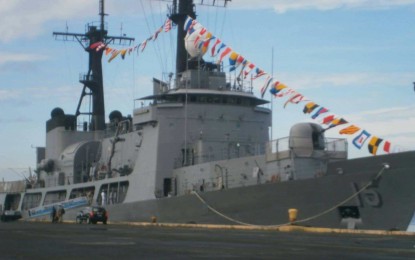 MANILA – The BRP Gregorio Del Pilar (PS-15), one of the largest vessels of the Philippine Navy (PN), has successfully completed two sea trials and is now nearing operational status, more than three years after a grounding incident in 2018.
"PN patrol ship under the Offshore Combat Force, BRP Gregorio Del Pilar, has successfully completed two sea trials that included the testing of the ship's main and auxiliary engines, propellers, and other related systems. The sea trials conducted are aimed at assessing the vessel's seaworthiness," Navy spokesperson Commander Benjo Negranza said in a message to reporters Tuesday.
These sea trials took place earlier this month in Subic Bay, Zambales.
"Currently, BRP Gregorio Del Pilar is not yet fully operational pending its endurance test. This is being conducted to test the overall performance of a vessel at maximum continuous rating at a given period usually from six to 24 hours to ensure the reliability of the ship's main propulsion and auxiliary engines," Negranza said.
He also added that the ship is also scheduled to have its Operational Readiness Evaluation (ORE).
In the ORE, Negranza said the ship's degree of readiness and its crew on various conditions such as standard drills and exercises required for a wide range of missions, is evaluated.
This is done prior to deployment to naval operating forces, he added.
"The area of deployment of BRP Gregorio Del Pilar will be determined by the higher headquarters based on several factors," Negranza said.
One of the ship's two variable pitch propellers was damaged, along with its propeller hub, after it ran aground off Hasa-Hasa Shoal in August 2018.
Difficulties in procuring parts and the pandemic moved the completion of the repairs of the BRP Gregorio Del Pilar to the latter part of 2021.
Earlier, the PN said no fire broke out aboard the offshore patrol vessel BRP Gregorio Del Pilar, amid reports of an unusual amount of smoke coming from the vessel during a recent sea trial.
"(The) BRP Gregorio Del Pilar conducted (a) sea trial in the waters at the vicinity of Subic in the morning of March 14, 2022. While the more-than-usual smoke was noted during the sea trial, there is no incident of fire aboard (the) ship as alleged. The ship's force, together with our engineers and contracted repair specialists, are looking at the possible cause of the unusual volume of smoke," Negranza said. (PNA)