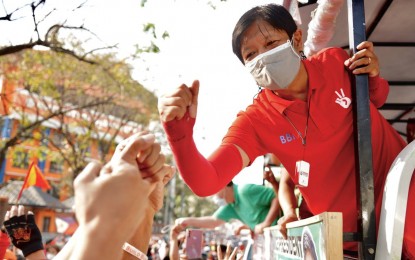 MANILA – The camp former Senator Ferdinand "Bongbong" Marcos Jr. thanked the ruling Partido Demokratiko Pilipino-Lakas ng Bayan (PDP-Laban) under the wing of Energy Secretary Alfonso Cusi for supporting his presidential bid less than two months to go before the May 9 elections.
"We are glad the PDP-Laban has joined the bandwagon of support for the BBM-Sara UniTeam of major political parties in the country. It is truly reassuring, but at the same time challenging us to be even more prepared and vigilant in light of growing rumors of possible poll fraud in the coming elections," lawyer Vic Rodriguez, Marcos' spokesperson, said in a statement on Tuesday.
The ruling party of the PDP-Cusi faction -- supported by President Rodrigo Roa Duterte -- on Monday night issued a resolution formally endorsing Marcos Jr. as its presidential bet.
Resolution No. 26, series of 2022 of PDP's National Executive Committee, stated that Marcos "is the candidate whose platform is most aligned with the development program" of Duterte, father of Marco's running mate Sara Duterte.
The resolution added that Marcos also "received the most endorsements from several local councils of PDP Laban include Ilocos Sur, La Union, Bataan, Bulacan, Nueva Ecija, Zambales, Batangas, Laguna, Quezon, Rizal, Oriental Mindoro, Camarines Norte, Masbate, Aklan, Negros Occidental, Leyte, Southern Leyte, Zamboanga del Sur, Davao del Sur, North Cotabato, Caloocan City, Malabon City, Mandaluyong City, Pasay City, Paranaque City, San Juan City, Valenzuela City, Malolos City, Ormoc City and San Pedro City.
In a press conference on Tuesday, Cusi said the PDP-Laban endorsed Marcos as the "candidate whose platform is most aligned with the development program of President Rodrigo Roa Duterte."
"Ito po ay hindi desisyon ng isang tao, but ito po ay desisyon ng partido (It is a decision not by just one person, but by the party) when we went through the process based on our Constitution and by-laws," Cusi said.
Cusi particularly noted that the party chose Marcos as its presidential bet because his "vision of governance" is most aligned with PDP-Laban's 11-point agenda, thus ensuring the continuity of Duterte's agenda of change.
The PDP-Laban has adopted the 11-point Agenda for Continuity: fight against corruption, eradication of poverty, advancement of peace and order, ending the pandemic, defeating communist terrorism, sustaining economic growth, generation of jobs, strengthening national defense and foreign relations, educational reforms, decentralization and local government empowerment, and Charter change and federalism.
"We appreciate deeply the PDP-Laban's kind endorsement of presidential frontrunner Ferdinand 'Bongbong' Marcos Jr. The trust it placed in him inspires us beyond measure, for it signals that our message of national unity is gaining ground," Rodriguez said.
Despite Marcos' posing advantage in the national surveys, Rodriguez said they cannot be complacent.
"It's barely two months before the D-Day; and all the national surveys indicate a runaway advantage for Marcos Jr., but we cannot be complacent as the forces that try to put him down ever since, has not ceased, and apparently has even intensified their gutter ways," he said.
"Again, we thank PDP-Laban for joining the crescendoing chorus of national unification as we call on our supporters not to blink, not yet, for victory may only be claimed when votes have already been cast and every ballot counted on election day," he added.
Marcos is the standard-bearer of the Partido Federal ng Pilipinas (PFP), while his running mate, Sara Duterte chairs the Hugpong ng Pagbabago (HNP) and the official vice-presidential bet of the Lakas-Christian Muslim Democrats (CMD). (PNA)