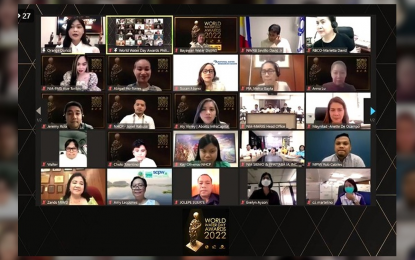 MANILA – West Zone concessionaire, Maynilad Water Services, Inc. (Maynilad), together with the National Water Resources Board (NWRB) and Department of Environment and Natural Resources (DENR), honored on Tuesday the 14 water and environment champions at the virtually held World Water Day PH Awards 2022 (WWD.PH Awards), the culminating event of the country's week-long celebration of World Water Day.
For more than five years now, the WWD.PH Awards has been a platform for honoring champions for water and the environment – individuals, institutions, and programs that have made strides in achieving water and water-environment sustainability in the Philippines.
Each WWD.PH-participating government agency and private company fields their nominees, which are then screened and vetted by a multi-organization committee before being included in the list of awardees.
Maynilad's Water Warrior Awardee for this year was the Parañaque City Environment and Natural Resource Office for actively promoting proper wastewater management through an ordinance establishing a septage management system in the City of Parañaque.
The NWRB's Water Wise Awards went to Coca-Cola Beverage Philippines for its Reduce, Reuse, Replenish program, and the Local Government of Pavia, Iloilo and Pavia National School, which served as the pilot location for the NWRB's Groundwater Management Plan.
The Local Water Utilities Administration's Huwarang Lingkod Tubig Award recipients were Puerto Princesa City Water District in Palawan, Bayawan Water District in Negros Oriental, and San Francisco Water District in Agusan del Sur.
The Damayan Irrigators Association, Inc., PPATTABA Irrigators Association, Inc., and Silway 7 - Klinan 6 Communal Irrigators Association, Inc were named the Most Outstanding Irrigator's Associations by the National Irrigators Association.
Efforts in protecting the Laguna de Bay were also recognized through the Laguna Lake Development Authority's Kampeon ng Lawa Awards, which were given to the local government of Morong, Rizal, the Muntinlupa City Lake Management Office's paddle wheel project, and Rev. Msgr. Jerry Veluz Bitoon, Rector of San Pablo Cathedral, in San Pablo City.
Completing the roster of honorees were Metro Pacific Water's Kampeon ng Kalikasan awardee Metro Iloilo Water District, and Aboitiz InfraCapital's Agos ng Kinabukasan awardee Metro Lipa Water District.
Emphasizing this year's World Water Day theme 'Groundwater – making the invisible, visible,' Maynilad CEO and President Ramoncito S. Fernandez said: "With climate change continuing to threaten our surface water sources, sustainably managing our groundwater sources is critical.
"We need to make the invisible, visible – by bringing discussions on groundwater management and protection to the mainstream," he added.
The event was shot at the El Deposito Museum in San Juan City, which showcased the largest underground water reservoir in the country. It presented the history of the 1882 Carriedo Waterworks, which provided potable water to the residents of Manila, carried from the Marikina and Pasig Rivers, in the 19th century. It could be considered the forerunner of today's Maynilad and Manila Water. (PR)