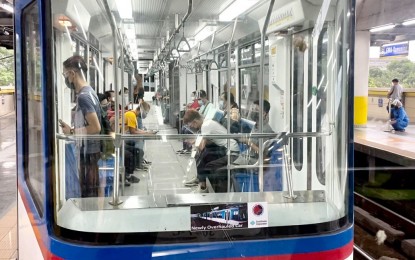 MANILA – President Rodrigo R. Duterte believes that technical glitches are now "a thing of the past" following the inauguration of the newly-rehabilitated Metro Rail Transit (MRT) 3.
The MRT-3 rehabilitation project, which started in May 2019 and was completed in December 2021, aims to restore the MRT-3 to its high-grade design condition.
"I want to take this opportunity to promote the rehabilitated MRT in the commuting public and assure our kababayans (countrymen) that service disruptions are a thing of the past," Duterte said in his speech during the MRT-3 rehabilitation completion ceremony at the MRT-3 Shaw Boulevard Station in Mandaluyong City.
Duterte said the government continues to strive to finish crucial projects like the MRT-3 rehabilitation project despite setbacks caused by Covid-19.
He described the newly-rehabilitated MRT-3 as "proof" that the government is keeping its momentum in improving connectivity and mobility, which is critical in sustaining economic growth and development.
Duterte emphasized the need for urgent response to challenges that confront Filipinos daily, noting that he is determined to keep championing programs and projects for their best interests.
He vowed that he would give "no more room for laxity and complacency" in public service.
Duterte also congratulated the Department of Transportation (DOTr) for realizing its commitment to improving service delivery, especially after the completed the comprehensive rehabilitation of the MRT-3 with the help of private partners.
"Our train system would have not returned to its original hybrid design condition without the technical competencies and professional aid of our service providers," he said.
The MRT-3 rehabilitation project was funded by the Japan International Cooperation Agency (JICA) while the rehabilitation and upgrade were undertaken by its original contractor and maintenance provider, Japan's Sumitomo Corporation and Mitsubishi Heavy Industries.
He welcomed the MRT-3 upgrades, particularly the trains which now operate with a speed of 60 kilometers per hour from the previous 25 kilometers per hour.
The number of trains also increased from a low of 12 to 15 operating units, now up to as high as 18 to 22 operational trains.
The waiting time between trains has also been reduced from a high of eight to 10 minutes, down to as low as 3.5 minutes.
"I extend my sincerest appreciation to the government of Japan for your assistance in the project. Your country has always been a friend, an active partner of the Philippines in our development projects," Duterte said.
Meanwhile, Duterte announced that the public will receive free MRT-3 rides from March 28 to April 30, 2022.
Free rides were also offered to women on March 8 in line with the celebration of National Women's Day.
In his prerecorded Talk to the People aired on Tuesday, Duterte urged the public to take the MRT, Light Rail Transit (LRT), or bus to get around Metro Manila amid inflated oil prices.
"You better learn from our practice now to ride itong mga (these) MRT, LRT because that is -- that would be the single functional move -- to use to move people from one place to another, or from one point to another," he said. (PNA)