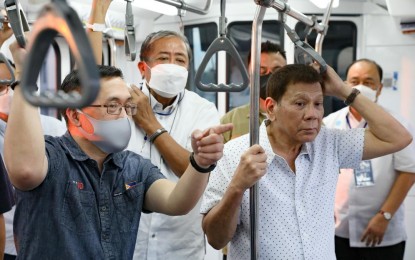 MANILA – No less than President Rodrigo Roa Duterte has announced that the MRT-3 will be giving free rides for one month, starting 28 March to 30 April 2022, following the successful completion of the rail system's massive and comprehensive rehabilitation project.
"I'd like to announce that Secretary Tugade decided that the MRT-3 rides will be free (hindi naman forever) from March 28 to April 30, 2022," Duterte said.
Duterte made the announcement as he graced the completion ceremony of the MRT-3 rehabilitation project on Tuesday, together with Department of Transportation (DOTr) Secretary Art Tugade.
Tugade noted that train passengers can ride the MRT-3 free of charge in all its stations during the said dates.
He also stressed that this will greatly help ease the financial burden of the riding public, especially amid the inflation, rising fuel prices, and with many Filipino workers now returning to on-site work.
The free ride initiative is also expected to complement the improved services of the rail line after the DOTr Railway sector, the MRT-3 management, and its maintenance provider, Sumitomo-MHI-TESP completed the rehabilitation works last December 2021, two months ahead of schedule.
Following its rehabilitation, the MRT-3 now operates at speed of up to 60 kilometers per hour from the previous 25 kph.
The number of trains has also increased from as few as 13, now up to 23 operational trains.
Meanwhile, the headway or the waiting time between trains has been reduced from around 10 minutes to as low as 3.5 minutes.
"Gumanda at nagbago ang ridership natin, bago mag pandemya -- 260,000. Ngayon, as I speak, bagamat may pandemya, 'yung ridership natin ay umaabot sa 280,000. At hangarin namin yung ridership kapag nailagay lahat 'yan [23 trains] ay magiging 600,000 per day. Ito ang legasiyang iiwanan ng Duterte administration sa MRT-3 (The MRT-3 ridership has improved, before pandemic – 260,000. Now, despite the pandemic, our ridership has been hitting 280,000. Our goal is to make it 600,000 per day once all 23 trains start to operate. This is the legacy of the Duterte administration in MRT-3)," Tugade said.
Under the MRT-3 rehabilitation project, all of its 72 Light Rail Vehicles (LRVs) were restored, rail tracks were replaced and rehabilitated.
Also upgraded were the line's power supply, overhead catenary system, communications and signaling system, stations, as well as depot facilities and equipment. (PR)