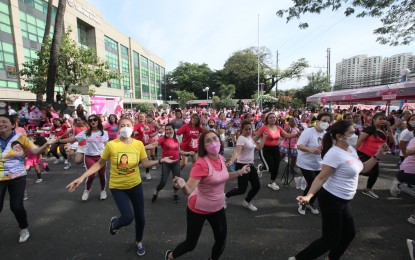 MANILA – Women who undergo premature or early menopause have increased risk of non-fatal cardiovascular disease that happens before age 60, a health expert said Wednesday.
In a virtual Kapihan forum, Philippine Heart Association Council member Dr. Cynthia De Lara said premature menopause leads to decrease in estrogen, the hormone controlling cholesterol levels in women.
De Lara cited the Framingham Study in 1976 which showed that cardiovascular disease -- a disease of the heart and the blood vessels -- was common in women who experienced an earlier menopause.
"Women who had undergone a surgical menopause before the age of 35 were seven times at greater risk of myocardial infarction or heart attack compared to women of the same age," she said.
She added that the leading cause of death among Filipino women in 2018 was ischaemic heart disease which is 14 percent of the total number of fatalities for the group that year at 252,920.
Menopause and its stages
Menopause is a natural phase of life for most women in their 40s or 50s signifying the permanent cessation of ovarian function and transition from a reproductive to a non-reproductive phase, de Lara said.
Its stages are perimenopause, menopause and postmenopause.
Perimenopause include the most symptomatic years when women may experience decline in estrogen levels, hot flashes and night sweats, depression, sleep problems, increased body fat around the organs, increased cholesterol levels, and stiffening or weakening of blood vessels.
The second stage is menopause where a woman does not have a menstruation for 12 months in a row.
The last stage is postmenopause where many women spend up to 40 percent of their lives after menopause.
"Perimenopause is the best or key time for women to reduce their cardiovascular risk, hindi po 'yung aantayin ninyo pa 'yung menopause (and not wait for the menopause stage)," de Lara said.
Women could reduce their risk for cardiovascular disease by avoiding alcohol and cigarettes, eating a healthy diet, exercising and maintaining a healthy weight, managing stress, and managing other health conditions like high blood pressure or high blood sugar. (PNA)