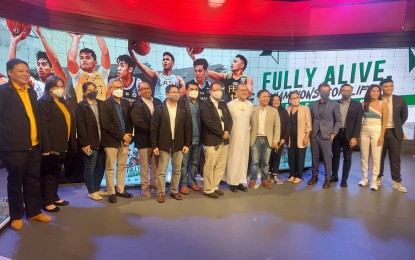 MANILA – The head coaches for the upcoming 84th UAAP men's basketball tournament believe Ateneo, Far Eastern University (FEU) and the University of the Philippines are the major threats to take the championship.
During the press launch of the season on Wednesday at the TV5 Media Center here, the chief tacticians unanimously agreed the Blue Eagles, Tamaraws, and Fighting Maroons are the teams to beat if they want to steal the title away.
Made even better by their stints with Gilas Pilipinas in recent times, SJ Belangel, Dave Ildefonso, Geo Chiu, Gian Mamuyac, and Ange Kouame will spearhead Ateneo's campaign as it looks to stretch its current UAAP dominance into a 4-peat.
Also to watch for the lads from Loyola Heights coached by Tab Baldwin are BJ Andrade, RV Berjay, Jason Credo, Matthew Daves, Vince Gomez, Josh Lazaro, Troy Mallillin, Jolo Mendoza, Forthsky Padrigao, Tyler Tio, and Raffy Verano.
Meanwhile, from the Maroon side of Katipunan Avenue comes the product of arguably the biggest offseason shakeup the UAAP has seen in recent years.
JBoy Gob, Ricci Rivero, James Spencer, and Noah Webb will lead the way for UP.
Joining Coach Goldwyn Monteverde's stacked roster as key players are Gerry Abadiano, Joel Cagulangan, RC Calimag, CJ Cansino, Malick Diouf, Terrence Fortea, Henry Galinato, Bismarck Lina, and Carl Tamayo.
Interestingly enough, UAAP fans will get an early potential finals preview as both teams will face off on match day 1 of the season at the Mall of Asia Arena in Pasay on Saturday.
Both the Blue Eagles and the Fighting Maroons will collide in the third game of a quadruple-header at 4 p.m.
On the other hand, Olsen Racela's FEU squad will be led by RJ Abarrientos, Cholo Anonuevo, L-Jay Gonzales, Brandrey Bienes, Joshua Ramirez, and Emmanuel Ojuola.
Meanwhile, some of the coaches think two teams could spoil the party.
Monteverde, National University coach Jeff Napa, and University of the East coach Jack Santiago said La Salle is also a team to beat this season.
Coach Derrick Pumaren will have Balti Baltazar taking charge for the Green Archers with Raven Cortez, Vince Cuajao, Penny Estacio, Kurt Lojera, Joaqui Manuel, Evan Nelle, Mark Nonoy, and Benjamin and Michael Phillips backstopping the team.
For Pumaren and Monteverde, the University of Santo Tomas, Season 82's runner-up, could still put up a fight for the championship despite losing Coach Aldin Ayo and a good bunch of key players like Cansino, Nonoy, and even Rhenz Abando due to highly publicized transfers.
Coach Jinino Manansala's Growling Tigers will be led by Dave Ando, Sherwin Concepcion, Joshua Fontanilla, and Jordi Gomez De Liano. (PNA)