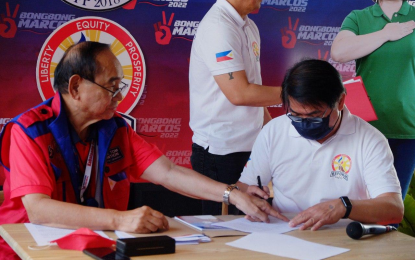 MANILA – A few days after the ruling Partido Demokratiko Pilipino–Lakas ng Bayan (PDP-Laban) faction endorsed the candidacy of presidential candidate Ferdinand "Bongbong" Marcos Jr., two more political parties formally entered an alliance to support UniTeam's Marcos-Sara Duterte tandem in the May 9 elections.
In a simple ceremony at the BBM Headquarters in Mandaluyong City on Wednesday, Partido Federal ng Pilipinas (PFP) secretary general Thompson Lantion and Reform Party (RP) president James Layug led the signing of an agreement to be an ally in advancing the BBM-Sara UniTeam.
Layug said among the current presidential candidates, only BBM-Sara UniTeam has a sincere response for continuity, sustainability and predictability in the successful programs of the Duterte administration.
He specifically cited that the UniTeam has committed to continue the incumbent government's "Build, Build, Build" program, digital infrastructure, war against drugs, criminality and corruption.
For Lantion, the Reform Party's alliance is significant because, as Marcos has instructed, unity is the key to the country's development.
NUP for Bongbong
The National Unity Party (NUP) on Thursday also endorsed Marcos' presidential bid.
"We wish to announce that the National Unity Party (NUP) has decided to endorse the presidential bid of former Senator Bongbong Marcos," the party said in a statement.
It said that Marcos' call for unity as the first step to help the country recover from the continuing coronavirus pandemic and other global crises is aligned with the NUP's vision of "one nation, one future" that is enshrined in the party's constitution.
The NUP urged its party members to support Marcos in his endeavor to usher in progress in the country.
The NUP urged other party members to support Marcos and help him in bringing the country to progress.
"We call upon all our Party members to join hands with former Senator Marcos in bringing our country and people to continued prosperity and progress," it said.
On Tuesday, the PDP-Laban wing under Energy Secretary Alfonso Cusi formally endorsed the presidential candidacy of Marcos.
Cusi said the bloc chose Marcos as its presidential bet because his "vision of governance" is most aligned with PDP-Laban's 11-point agenda, thus ensuring the continuity of President Rodrigo Roa Duterte's agenda of change.
The PDP-Laban has adopted the 11-point Agenda for Continuity: fight against corruption, eradication of poverty, advancement of peace and order, ending the pandemic, defeating communist terrorism, sustaining economic growth, generation of jobs, strengthening national defense and foreign relations, educational reforms, decentralization and local government empowerment, and Charter change and federalism.
On January 21, PDP-Laban's national executive committee announced it will support vice presidential bet Sara Duterte "based on her credentials, advocacies and vision for our nation."
On Thursday, acting presidential spokesperson and Communications Secretary Martin Andanar confirmed that Duterte had a "cordial and productive" meeting with Marcos.
Duterte, Andanar said, also discussed with Marcos the current government's major achievements.
In a statement, Marcos' spokesperson Vic Rodriguez affirmed the statement of Andanar that Duterte has recently met with the former senator. (with reports from Filane Mikee Cervantes/PNA)