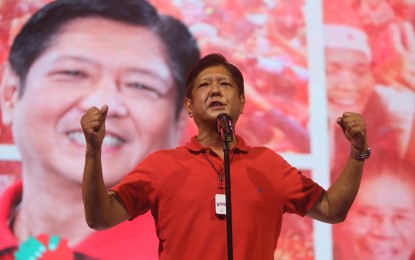 MANILA – Partido Federal ng Pilipinas (PFP) presidential candidate Ferdinand 'Bongbong' Marcos said he would accelerate the industrialization of crucial sectors in the country to create more jobs for Filipinos if he wins in the upcoming May 9 polls.
In an interview with local radio station DZRJ, Marcos said the next administration should spur economic development by pursuing an industrialization program similar to what was done by his father, former President Ferdinand Marcos, in the 70s.
"The next administration will have to revive the industrialization drive that was started in the 70s. We have to continue that. If you look at the history of our wealthy neighbors, they became economically strong because of trade," Marcos said.
"We are at present very dependent on the service sector. That is something we need to address very, very clearly, and manufacturing is a very important part of that," he added.
According to 2021 data, the agriculture sector accounted for 10 percent of the country's Gross Domestic Product (GDP), while the industrial and services sectors accounted for 30.8 percent and 60 percent, respectively.
The manufacturing industry also employs over 3.2 million individuals based on 2016 data from the Department of Trade and Industry (DTI).
The UniTeam presidential bet also underscored the importance of expanding our selection of export products to increase trade with other countries.
"If the manufacturing sector has shrunk then we really have to go back and redesign that part of our economy for the simple reason that if we want to be involved in trade, then we have to have something to trade with," Marcos said.
During the tenure of former President Marcos, the country embarked on the balanced development of both agriculture and industry.
In this multi-pronged approach, the agri sector helped generate the much-needed capital and capacity required to pursue our industrialization objectives, since most of the country's exports were agricultural products at that time.
Marcos also stressed the need to generate more jobs for people who lost their work due to the pandemic noting that the manufacturing sector could be used as the primary contributor to job generation.
"When you talk to people, they always come back down to jobs. Walang suweldo, walang pera, walang pambayad sa kuryente, walang pambayad sa tubig. 'Yun ang mga problema ng mga Pilipino ngayon (No salaries, no money, no budget to pay electricity and water)," he said.
"What we really have to do is bring back those jobs and many of those would be in manufacturing. Again, infrastructure development. All that has to come into play. If we are going to revive and reshape the economy in the direction the global economy is going," Marcos added.
It is expected that downstream industries linked to infrastructure development, such as construction, would benefit from the Build, Build, Build program started by the Duterte administration.
Pursuing industrialization in tandem with the agriculture sector's development would also allow the country to attain food security, particularly in essential goods.
The emergence of the global Covid-19 pandemic and conflict in Europe had also shown how import-dependent countries such as the Philippines are vulnerable to price fluctuations due to supply chain disruptions. (PR)