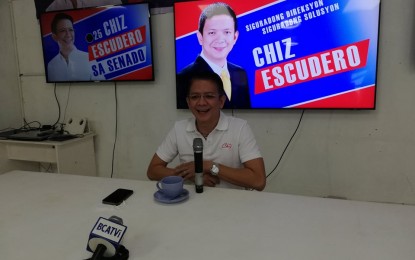 SAN JOSE DE BUENAVISTA, Antique – Senatorial candidate Francis Joseph "Chiz" Escudero has vowed to work on a PHP20-billion fund for the rehabilitation of the areas affected by Typhoon Odette once he gets elected in the May elections.
In a press conference Monday, Escudero said he wants to be a "Champion of the Local Government Units (LGUs)" by giving priority to their needs.
"Typhoon Odette had affected 3.2 million Filipinos just like in Typhoon Yolanda. But then, Congress was then quick to act for the rehabilitation unlike in Odette," he said.
Escudero said that based on his inquiries with the other local chief executives, he learned that most had not yet received assistance from the national government, hence he intends to prioritize the rehabilitation fund for affected families.
He said the rehabilitation fund will be downloaded directly to the LGUs as they "know best" the needs of their constituents.
Meanwhile, Escudero said he also intends to work to increase the allocation in agriculture since the Philippines is an agricultural country.
The national government has allocated more funds for infrastructure projects than for agriculture unlike in Thailand and Vietnam, which are rice exporting countries, he added.
"The Department of Agriculture (DA) has only PHP80-billion fund as compared with the PHP840-billion fund of the Department of Public Works and Highway (DPWH)," he said.
He added there are now only 1.6 million hectares of irrigated areas despite the increased Filipino population.
Meanwhile, Escudero said he has not yet endorsed a presidential candidate since he is still in the process of analyzing who has the best program and strategies for the good of the country.
"Time will come though that I will have to endorse a presidential candidate," he said. (PNA)