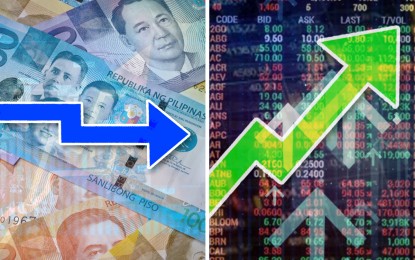 MANILA – Bargain hunting allowed the Philippine Stock Exchange index (PSEi) to finish Monday in a positive territory anew while the peso ended sideways against the US dollar.
The local stock barometer rose by 0.13 percent, or 9.52 points, to 7,134.36 points.
All Shares followed with a jump of 0.20 percent, or 7.46 points, to 3,782.05 points.
Two of the sectoral gauges tracked the main index namely Industrial, 0.84 percent; and Holding Firms, 0.48 percent.
However, most of the sectoral indices slipped during the day namely Mining and Oil, 0.87 percent; Services, 0.45 percent; Property, 0.24 percent; and Financials, 0.11 percent.
Volume reached 768.14 million shares amounting to PHP5.2 billion.
"Philippine shares were bought up ahead of the quarter end and a series of key economic data releases while the street keeps a watchful eye on the Fed's (Federal Reserve) planned interest rate hikes," said Luis Limlingan, Regina Capital Development Corporation (RCDC) head of sales.
Fed officials earlier hinted of more rate hikes in the coming months after the 25 basis points increase this month, the first since December 2018, in a bid to help address the rising consumer price index (CPI) in the US, which posted a four-decade high of 7.9 percent last February.
Meanwhile, the peso ended the week's first trading day at 52.13, little changed from its 52.15 last Friday.
It opened the day at 52.18, an appreciation from its 52.305 start in the previous session.
It traded between 52.3 and 52.08, resulting in an average of 52.21.
Volume reached USD778.55 million, lower than the USD1.11 billion at the end of last week. (PNA)